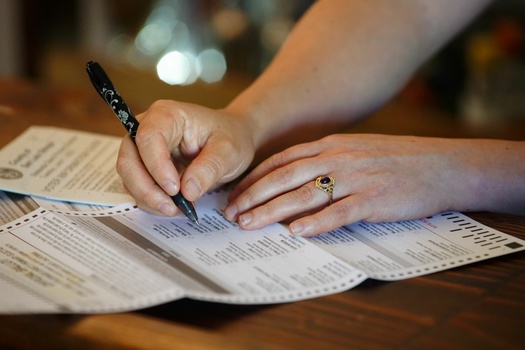 Tuesday, November 1, 2022
Recent polling shows more than 60% of Latino voters report exposure to false or unverified about politics, the COVID vaccine and abortion, and advocates said the trend puts voter engagement and turnout at risk. North Carolina's population boom over the past decade has mainly come from Latinos, who wield increasing political power.

More than 100,000 thousand Latino residents are expected to cast ballots in next week's midterm election.

Julio Rivera, national deputy director for civic engagement with the NALEO Educational Fund, explained one in three Latino voters say they believe the disinformation
is accurate.

"Around two-thirds of Latinos had heard that there is a 5G chip within the COVID vaccine, for example, in this latest round of polling , we saw around 79% had said that they believe now that abortion is illegal nationwide, which is not the case," Rivera said.

Rivera encouraged individuals in the Latino community to check facts using websites from official agencies, including information on how, when and where to vote, before accepting or spreading information shared on social media.

He pointed to nonpartisan Spanish-language voter guides available at 'votemosnc.com' as a resource.

Rivera explained Latino communities are highly connected through encrypted messenger apps like WhatsApp, which allow disinformation to spread through a "closed chamber" of family members, friends, and other trusted contacts.

"You can see how easily with the lack of monitoring in those encrypted messenger apps with trusted messengers being in the mix, how easily disinformation could could potentially spread," he said.

He said some disinformation narratives are geared toward people from certain countries.

"We've seen a lot of campaigns aimed at folks coming from communist countries," Rivera said, "folks coming from socialist regimes like Venezuela, folks of Cuban descent that seem to be targeted."

The number of Latino eligible voters has increased by nearly 5-million since 2018, comprising more than 60% percent of the total growth in eligible voters over the past four years, according to the Pew Research Center.


get more stories like this via email
Health and Wellness
Most people probably never give a second thought to their visits to the dentist, but not everyone can navigate this process with ease. People with …
Social Issues
Christmas is a little more than two weeks away, and toy drives around the country are in full swing. A North Dakota organizer shares some things to …
Social Issues
A federal judge in Nevada has dealt three tribal nations a legal setback in their efforts to stop what could be the construction of the country's larg…

Environment
Hoosiers could get their holiday trees from any of about 200 tree farms in the state, according to the Indiana Christmas Tree Growers Association…
Social Issues
Reports from the Insurance Commissioner's office and the state Attorney General reveal an analysis of what they call "the true costs of health care" i…
Health and Wellness
The holiday season is filled with recipes passed down from years before, and feasting with family and friends. But think again before you have …
Environment
Connecticut lawmakers are reluctant to approve new emission standards that would require 90% cleaner emissions from internal-combustion engines and re…
Social Issues
Another controversial move in Florida's education system is a proposal to drop sociology, the study of social life and the causes and consequences of …