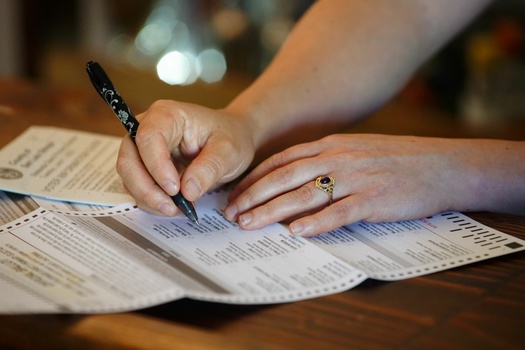 Thursday, November 10, 2022
Votes in Arizona are still being counted two days post-election, and several close races are still to be called.

Arizonans will not only ultimately decide who will govern the state, but also have a say in which party will hold the Senate majority in Congress.

Political science professor at the University of Arizona Tom Volgy said if the gubernational and Senate races in Arizona are indicators of how close margins will be, the same should be expected for other contested parts of the election.

"Most of the races in contested parts of the election are going to be very, very tight," said Volgy. "Which probably means that we may not know tonight - and may not know, worst case, for possibly a week - before the final results are in."

Arizona Democratic U.S. Senator Mark Kelly led in the polls on election night against his Republican opponent - venture capitalist Blake Masters - as early mail-in ballots were counted, but the margin between the two is expected to narrow as in-person ballots are tabulated.

Democratic Secretary of State Katie Hobbs leads in the gubernatorial race against the Republican, former TV news anchor Kari Lake. Despite votes still being counted in precincts, Lake has already voiced doubts about Tuesday's results.

Volgy said it is plausible democracy will be tested in Arizona - depending on how the losing candidates respond, and whether the 2020 elections have tainted the trust in due process enough for election deniers to contest the validity of the outcome.

"I've experienced a lot of cases of very tense moments in elections," said Volgy. "What may make this unique is the extent of nastiness that has unfolded. It's a level of nastiness that I have not experienced, certainly in the state in Arizona."

As someone who's participated in local government and been elected to office before, Volgy said he's saddened and worried about attempts to repress the vote.

Election misinformation, election-denying candidates, lawsuits and criticism of mail-in ballots will ultimately prolong final results from being solidified in the state.




get more stories like this via email
Health and Wellness
Most people probably never give a second thought to their visits to the dentist, but not everyone can navigate this process with ease. People with …
Social Issues
Christmas is a little more than two weeks away, and toy drives around the country are in full swing. A North Dakota organizer shares some things to …
Social Issues
A federal judge in Nevada has dealt three tribal nations a legal setback in their efforts to stop what could be the construction of the country's larg…

Environment
Hoosiers could get their holiday trees from any of about 200 tree farms in the state, according to the Indiana Christmas Tree Growers Association…
Social Issues
Reports from the Insurance Commissioner's office and the state Attorney General reveal an analysis of what they call "the true costs of health care" i…
Health and Wellness
The holiday season is filled with recipes passed down from years before, and feasting with family and friends. But think again before you have …
Environment
Connecticut lawmakers are reluctant to approve new emission standards that would require 90% cleaner emissions from internal-combustion engines and re…
Social Issues
Another controversial move in Florida's education system is a proposal to drop sociology, the study of social life and the causes and consequences of …