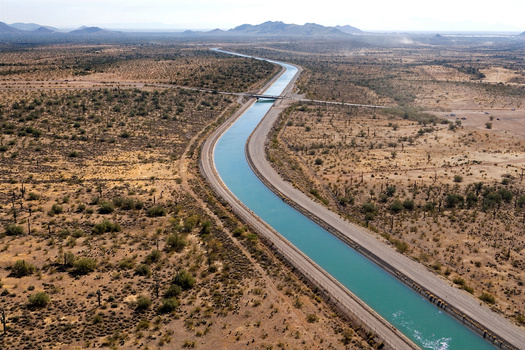 Tuesday, December 27, 2022
The Federal Energy Regulatory Commission has closed the door on plans to build two hydroelectric dams in Northern Arizona. The applicant behind the projects, Pumped Hydro Storage LLC, withdrew the applications for the dams, that would have been located near the confluence of the Colorado and Little Colorado Rivers.

The developer has doubled-down on supporting a third project - a dam at Big Canyon, just before the Little Colorado River Gorge.

Gary Wockner, director of the nonprofit Save the Colorado, said these types of projects, paired with climate change and drought, would create more environmental damage to rivers and riparian areas.

"Dams kill rivers," Wockner said. "That is their sole function. And hydropower is not 'clean' or 'green,' and when it involves a dam on a river, which it does in almost all cases, it also kills rivers. "

The two cancelled projects were proposed as hydroelectric dams. They received pushback from local tribal nations and conservation groups. Wockner said the fight will continue in the new year to stop the Big Canyon Project.

Wockner added it is his understanding that the Navajo Nation, among other tribal nations, did not give it permission nor were they consulted about the hydropower projects. The lack of consultation by the Federal Energy Regulatory Commission lies in the Federal Power Act, which gives FERC the authority to license these projects on federal and tribal lands without tribal approval. While safeguards are included in the Act to protect reservations, Wockner said FERC may ultimately have the final say.

"From our perspective, whether it's on Navajo land or federal land, or wherever it's at, it's one of the most beautiful places in the United States - and it's a disastrous idea, which we will fight as long as it takes," he said.

Wockner said there are at least 29 new dam, diversion or pipeline projects currently being proposed, in the permitting process, or already under construction in the Colorado River Basin, which Wockner's group and others are also fighting in court.


get more stories like this via email
Health and Wellness
Most people probably never give a second thought to their visits to the dentist, but not everyone can navigate this process with ease. People with …
Social Issues
Christmas is a little more than two weeks away, and toy drives around the country are in full swing. A North Dakota organizer shares some things to …
Social Issues
A federal judge in Nevada has dealt three tribal nations a legal setback in their efforts to stop what could be the construction of the country's larg…

Environment
Hoosiers could get their holiday trees from any of about 200 tree farms in the state, according to the Indiana Christmas Tree Growers Association…
Social Issues
Reports from the Insurance Commissioner's office and the state Attorney General reveal an analysis of what they call "the true costs of health care" i…
Health and Wellness
The holiday season is filled with recipes passed down from years before, and feasting with family and friends. But think again before you have …
Environment
Connecticut lawmakers are reluctant to approve new emission standards that would require 90% cleaner emissions from internal-combustion engines and re…
Social Issues
Another controversial move in Florida's education system is a proposal to drop sociology, the study of social life and the causes and consequences of …