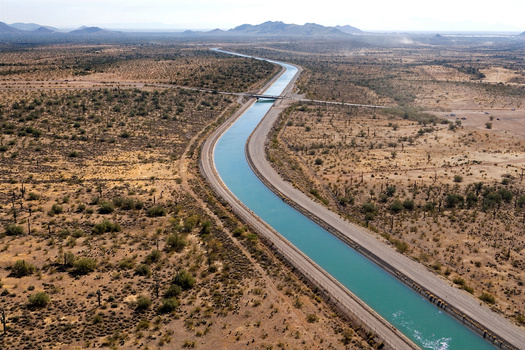 The annual cleaning of acequias in northern New Mexico gets underway in earnest next week, just as a filmmaker debuts a documentary about their past, present and future.

Arcie Chapa, manager, Multi-Media Services, University of New Mexico Center for Regional Studies and a filmmaker, has created the hour-long documentary: "Acequias: The Legacy Lives On." She said the hand-built irrigation ditches have enriched the Land of Enchantment since 16th-century Spanish settlers arrived, with many established by the Pueblo Tribes long before. While some stretches are drying up, prompting fears of their extinction, Chapa believes unified communities can help protect the waterways for future generations.

"My dream is that this film somehow brings communities together - because climate change, if we don't start now, climate change is going to force us to become more mutualistic," she said.

The Taos Valley Acequia Association has multiple events starting this Friday in which farmers and volunteers will conduct spring cleaning prior to water being released. Two free screenings of the documentary will be held at Santa Fe's Jean Cocteau theater today and tomorrow (3/21 and 3/22) with additional screenings in Albuquerque next month.

Chapa believes it has been standing-room only for early showings of the documentary because people are hungry to learn more about the acequias and their self-governed history.

"If you are part of an acequia, you have to be a part of that community whether you like each other or not. When it's cleaning day, you go out and clean it. You go out and take care of your section of the acequia that runs through your property," she said.

Most of New Mexico's acequias are concentrated in the upper valleys around smaller rivers and watersheds but some stem from larger rivers, not only providing water for agriculture but also miles of adjacent recreational trails. Chapa hopes the film serves as an inspiration to people to keep them flowing.

"If there's water in the San Luis Mountains at the headwaters of the Rio Grande, then there will be water in the acequias, so we need to protect this infrastructure. It's like one of the people said, 'It's the most important infrastructure that we have in New Mexico,' " she said.


Disclosure: Amigos Bravos contributes to our fund for reporting on Environment, Public Lands/Wilderness, Water. If you would like to help support news in the public interest,
click here.
get more stories like this via email
Health and Wellness
Most people probably never give a second thought to their visits to the dentist, but not everyone can navigate this process with ease. People with …
Social Issues
Christmas is a little more than two weeks away, and toy drives around the country are in full swing. A North Dakota organizer shares some things to …
Social Issues
A federal judge in Nevada has dealt three tribal nations a legal setback in their efforts to stop what could be the construction of the country's larg…

Environment
Hoosiers could get their holiday trees from any of about 200 tree farms in the state, according to the Indiana Christmas Tree Growers Association…
Social Issues
Reports from the Insurance Commissioner's office and the state Attorney General reveal an analysis of what they call "the true costs of health care" i…
Health and Wellness
The holiday season is filled with recipes passed down from years before, and feasting with family and friends. But think again before you have …
Environment
Connecticut lawmakers are reluctant to approve new emission standards that would require 90% cleaner emissions from internal-combustion engines and re…
Social Issues
Another controversial move in Florida's education system is a proposal to drop sociology, the study of social life and the causes and consequences of …