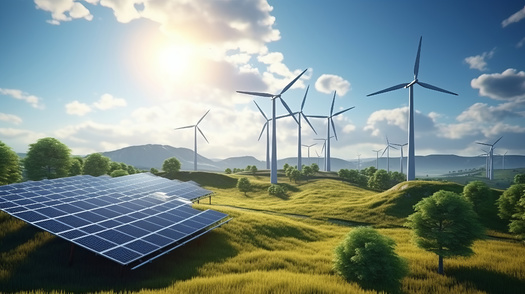 August is usually a time when new laws take effect in Minnesota - and in the months ahead, a lot of eyes will be monitoring the implementation of climate policies approved by the Legislature. That includes under-the-radar actions.

This year, Minnesota drew attention for major climate moves, including a 100% clean electricity standard for utilities to meet by 2040.

But Anna Johnson - senior manager for state and local affairs with the organization Fresh Energy - said there are other things to highlight, including efforts to reduce transportation emissions by expanding public transit, along with funding to enhance walking and biking trails.

"The transportation sector is currently the largest source of greenhouse gas emissions, both statewide and across the country," said Johnson. "So, it's a trickier sector that we need to be decarbonizing, and transit is a really important part of that."

And there's money to electrify public buses - as well as school bus fleets, protecting riders from breathing diesel fumes.

There's a lot of state funding for climate programs, but expanding transit will be aided by a 0.75% sales tax in the Twin Cities area.

Johnson noted that whatever extra residents have to pay will be offset in other areas, such as lower vehicle expenses if they don't have to drive as much.

And it isn't just utilities being urged to expand the use of renewable energy, like solar. Local governments and homeowners are getting more help to join in.

"There's grants for solar on public buildings," said Johnson. "So, if municipalities want to put solar on city hall, there is money to do that. The Legislature also prohibited homeowners' associations from prohibiting rooftop solar."

The state is also trying to reduce emissions from the buildings sector, and Johnson pointed out that there was action to usher in new energy codes for commercial structures.

"The process for that is conducted through Department of Labor and Industry," said Johnson. "And the new law directs the department to be adopting stricter energy codes that are in line both with building science and the technology that's available to make buildings more efficient."

The plan is to have these buildings achieve an 80% reduction in net energy consumption by 2036.




Disclosure: Fresh Energy contributes to our fund for reporting on Climate Change/Air Quality, Energy Policy, Environment, Environmental Justice. If you would like to help support news in the public interest,
click here.
get more stories like this via email
Health and Wellness
Advocates for mental health in Maine say the stigma of suicide often prevents those most at risk from getting the help they need. The CDC reports …
Cannabis is an emerging science in which students can make new discoveries and contributions. Wayne State University in Michigan has introduced an …
Environment
Cell phones around Wisconsin and the rest of the country will be buzzing this Wednesday afternoon for a test of the federal Emergency Alert System and…
Social Issues
As the U.S. navigates a prolonged housing crisis, a North Dakota organization is highlighting data showing significant homeownership disparities…
Environment
A new study finds the autumn chore of raking leaves could be a disservice to budding plant life. The National Wildlife Federation found fallen leaves …
Environment
As more companies embrace sustainable practices, businesses in North Carolina are leading the charge through innovative initiatives with funds from …
Environment
Volunteer water monitoring is gaining popularity in West Virginia, and could help assess the impact on regional water quality of projects like the …
Health and Wellness
October is National Bullying Prevention Month, and one Nevada father is speaking out after his special-needs son endured a traumatic incident…