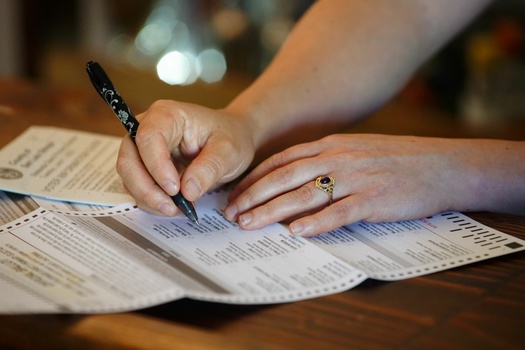 Voters, who couldn't be blamed for looking away from the news during the "Dog Days" of August, especially election news, instead find themselves "drinking through a fire hose," according to an election law advocate.

Former President Donald Trump and his 18 co-defendants have until Friday to surrender at Georgia's Fulton County Jail on charges they conspired to overturn the state's 2020 election results. There is also a Republican presidential debate this week, which Trump has promised to boycott.

David Becker, executive director of the Center for Election Innovation and Research, said in this political climate, voters are forced to decipher what he calls a "sideshow," versus undertakings critical for them to follow.

"These are all part of an overall effort to begin to hold those who have lied about our democracy, who have targeted public officials, who have threatened those public officials; hold them accountable for their actions," Becker asserted. "I think that's incredibly important to keep that context as we continue to see these things."

The former president faces 13 felony counts for his alleged election interference in Georgia. Last week, Trump scheduled and then canceled a news conference for today in which he promised to present "irrefutable" evidence of "election fraud" in Georgia, saying his lawyers advised against it.

In a Quinnipiac poll released last week, a majority of Americans, 68%, said if a person is convicted of a felony, they should not also be eligible to be President of the United States.

Tim Malloy, polling analyst at Quinnipiac University, said the poll also showed voters are very concerned about the nation's future.

"A whopping 83% of Americans fear democracy may fall apart; will not be able to be sustained in this current climate," Malloy reported. "That tells you something about the feeling of fragility that American voters have right now."

At the same time, Malloy said when registered voters were asked about the most important issues in deciding who to vote for in the election for president, only 28% said preserving U.S. democracy. It was edged out by the economy at 32%.


get more stories like this via email
Health and Wellness
Most people probably never give a second thought to their visits to the dentist, but not everyone can navigate this process with ease. People with …
Social Issues
Christmas is a little more than two weeks away, and toy drives around the country are in full swing. A North Dakota organizer shares some things to …
Social Issues
A federal judge in Nevada has dealt three tribal nations a legal setback in their efforts to stop what could be the construction of the country's larg…

Environment
Hoosiers could get their holiday trees from any of about 200 tree farms in the state, according to the Indiana Christmas Tree Growers Association…
Social Issues
Reports from the Insurance Commissioner's office and the state Attorney General reveal an analysis of what they call "the true costs of health care" i…
Health and Wellness
The holiday season is filled with recipes passed down from years before, and feasting with family and friends. But think again before you have …
Environment
Connecticut lawmakers are reluctant to approve new emission standards that would require 90% cleaner emissions from internal-combustion engines and re…
Environment
While lawmakers and environmental groups strive to lower vehicle emissions and the nation's carbon footprint, many truckers see unrealistic …