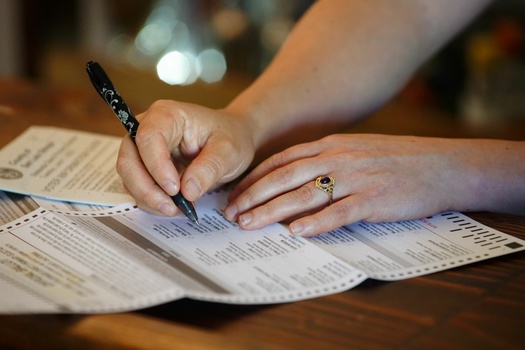 The push for ranked-choice voting is gaining momentum in cities across the country, including Boston - where organizers say it will help increase voter turnout in municipal elections.

The system, which allows voters to pick multiple candidates in a race, was rejected in a 2020 statewide ballot - even though it was supported by a majority of Boston voters.

Ranked Choice Boston Executive Director Ed Shoemaker said the system is good for democracy.

"Now you don't have to vote with your head, right?" said Shoemaker. "You can vote with your heart, in a way that it really expresses how you feel, and what type of leader you want to reflect and lead your community."

Shoemaker said organizers have built a strong coalition of community groups and lawmakers behind the effort, but opponents of ranked-choice voting say it's too confusing for voters and can often delay election results.

Local elections tend to have low voter turnout, but Shoemaker said ranked-choice voting would change the idea that votes are "wasted" or that entrenched incumbent candidates can't be beat.

He said it would also increase diversity among candidates and show younger voters that their voices matter.

"This encourages everybody to run," said Shoemaker, "because if people vote for you, if people support you, you're going to win."

Shoemaker said he's optimistic his coalition will be successful based on local support.

At least one Boston City Council member must first sponsor a ranked-choice voting measure, which would then require approval from Mayor Michelle Wu before a home-rule petition is submitted to the state legislature.

Support for this reporting was provided by the Carnegie Corporation of New York.




get more stories like this via email
Health and Wellness
Most people probably never give a second thought to their visits to the dentist, but not everyone can navigate this process with ease. People with …
Social Issues
Christmas is a little more than two weeks away, and toy drives around the country are in full swing. A North Dakota organizer shares some things to …
Social Issues
A federal judge in Nevada has dealt three tribal nations a legal setback in their efforts to stop what could be the construction of the country's larg…

Environment
Hoosiers could get their holiday trees from any of about 200 tree farms in the state, according to the Indiana Christmas Tree Growers Association…
Social Issues
Reports from the Insurance Commissioner's office and the state Attorney General reveal an analysis of what they call "the true costs of health care" i…
Health and Wellness
The holiday season is filled with recipes passed down from years before, and feasting with family and friends. But think again before you have …
Environment
Connecticut lawmakers are reluctant to approve new emission standards that would require 90% cleaner emissions from internal-combustion engines and re…
Environment
While lawmakers and environmental groups strive to lower vehicle emissions and the nation's carbon footprint, many truckers see unrealistic …