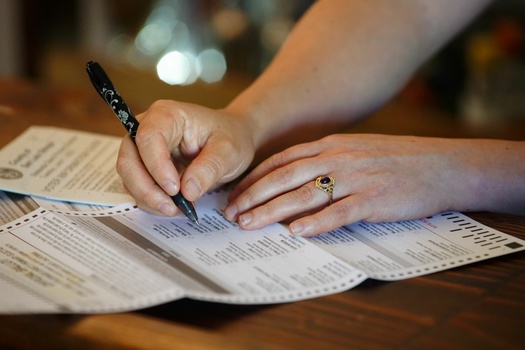 Friday, September 15, 2023
Vice President Kamala Harris is set to visit Northern Arizona University in Flagstaff as part of a month-long college tour as the Biden administration aims to mobilize young voters.

Data from the Brookings Institution shows younger generations such as millennials and Gen-Zers tend to lean more Democrat.

At the Alliance for Youth Action, executive director Dakota Hall said young voters want what he called "transformational change," and won't be satisfied unless there are what he calls "sweeping changes" relating to democracy.

"These are folks who went to high school and witnessed nothing but 'on' news coverage on their different social media feeds," he said, "of Trump, of dysfunction, of government shutdowns, and then a global pandemic, right? And so, they've seen the worst of what this country can be, and I think they want to push us forward."

According to research from the alliance, young voters in key 2022 election battleground states, such as Arizona, are heavily focused on two issues. For more progressive young voters, nearly two in three see safeguarding abortion access as a top priority. Those who identify as more conservative see bringing inflation under control as their top issue.

Michael Hais, former vice president of the research-based consulting firm Frank N. Magid Associates, said political attitudes and party identification tend to be formalized by young voters in their late teens and early twenties. He added that a family's political values will influence a young person, but also highlights the importance that political events can have in shaping their political outlook.

"Many of them may identify initially as independents, but they lean toward one party or another," he said, "but once the attitudes are formed, and once people begin to use them in their political behavior and their voting, they tend to firm up pretty consistently."

Hais said the development of younger voters' political attitudes today will have an impact for decades to come. The Brookings Institution projects that if Americans younger than 45 vote at the same rate as they did in 2020, they'll represent more than one-third of the 2024 electorate.


get more stories like this via email
Health and Wellness
Most people probably never give a second thought to their visits to the dentist, but not everyone can navigate this process with ease. People with …
Social Issues
Christmas is a little more than two weeks away, and toy drives around the country are in full swing. A North Dakota organizer shares some things to …
Social Issues
A federal judge in Nevada has dealt three tribal nations a legal setback in their efforts to stop what could be the construction of the country's larg…

Environment
Hoosiers could get their holiday trees from any of about 200 tree farms in the state, according to the Indiana Christmas Tree Growers Association…
Social Issues
Reports from the Insurance Commissioner's office and the state Attorney General reveal an analysis of what they call "the true costs of health care" i…
Health and Wellness
The holiday season is filled with recipes passed down from years before, and feasting with family and friends. But think again before you have …
Environment
Connecticut lawmakers are reluctant to approve new emission standards that would require 90% cleaner emissions from internal-combustion engines and re…
Environment
While lawmakers and environmental groups strive to lower vehicle emissions and the nation's carbon footprint, many truckers see unrealistic …