Monday, September 25, 2023
Little Priest Tribal College in Winnebago says its student body and campus are growing - and so are its options for people to study in STEM fields.

Little Priest has always offered some health and science courses, but college Vice President of Finance and Operations Mark Vasina said the two-year school is also creating pathways to higher education for its graduates.

It has transfer agreements with several area colleges - in many cases, with free tuition for getting a bachelor's degree - including Wayne State in Wayne, Nebraska, and Briarcliff University in Sioux City, Iowa.

Vasina said one Briarcliff agreement allows Little Priest health-science grads to earn a nursing degree in two years, tuition free.

"Here on the reservation, we have the Twelve Clans Hospital, and they have a constant need - as all over the country - for nurses," said Vasina. "But they also need other lab technicians, and people who are trained in science and technology applications."

This month, Little Priest broke ground on a 12,000 square foot science building. In addition to government agencies, the reservation is home to Ho-Chunk Farms, which employs some of the school's diversified ag students.

Vasina says Little Priest is helping to build a skilled workforce in an area where employers sometimes struggle to fill positions because of the town's small size and distance from metropolitan areas.

An ongoing issue on the Winnebago reservation is water quality, because of excessive mineral content and other contaminants. Vasina pointed to water monitoring as another local need for STEM-trained individuals.

"We also have our EPA," said Vasina. "We have water testing, we have our Department of Natural Resources - all of these programs are starving for qualified individuals who are trained in modern lab techniques."

And Little Priest offers dual-enrollment courses at three area high schools, which Vasina said is one way they generate interest and promote readiness in potential future students.

"We're reaching backwards into the high school and middle school," said Vasina, "as well as forward to the four-year schools, so that students can recognize that coming here leads them into something even greater and better beyond."

The college celebrated its 25th anniversary this month and is seeing record enrollment. Since summer 2020, tuition has been free for all students.




get more stories like this via email
Environment
A new report shows Maine is exceeding the home-heating goals set forth in its ambitious four-year climate plan to reduce greenhouse-gas emissions…
Social Issues
By India Gardener / Broadcast version by Nadia Ramlagan reporting for the Kent State-Ohio News Connection Collaboration. According to Attorney …
Social Issues
It's estimated that one in three Kentuckians struggles to pay medical bills, and the issue continues to be a driving factor in personal bankruptcy …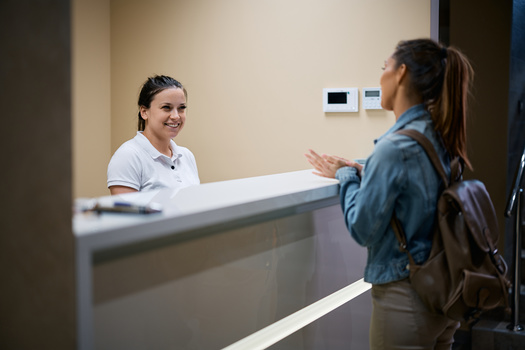 Social Issues
Senate lawmakers are soon expected to vote on the Modernizing Opioid Treatment Access Act, legislation introduced this year by Republican Sen…
Health and Wellness
A new program in Utah wants to help first responders learn to recognize and work through their traumatic life events through horsemanship. This …
Health and Wellness
A coalition of Nevada groups is behind a statewide effort to make Nevada an Employment First state. That would align the state with a U.S. Labor …
Social Issues
Government accountability groups want increased transparency in New York criminal court decisions. This comes after a new report finds only 6% of …
Social Issues
Fewer college students are taking foreign language courses, and a new report warns this could affect how well students are prepared for a globalized …