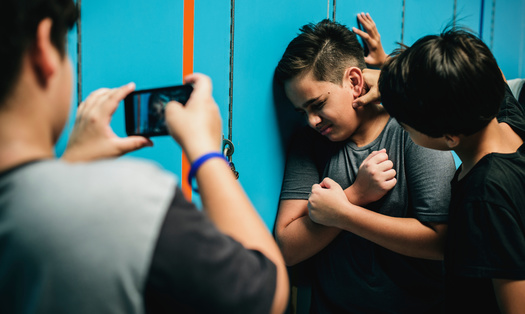 October is National Bullying Prevention Month, and one Nevada father is speaking out after his special-needs son endured a traumatic incident.

Jeremy Anderson, a board member with the Down Syndrome Organization of Southern Nevada, said a year ago, his 17-year-old son was one of two male students with Down syndrome who were "corralled into a bathroom stall" by six peers and encouraged to kiss. The encounter was recorded and later shared on social media. Anderson said these events leave significant and lasting impacts. According to Stopbullying.gov, children with disabilities are at an increased risk of being bullied because certain factors leave them more vulnerable. Anderson later said his son told him he participated in the act because he wanted to feel a sense of acceptance and belonging.

"He did it because he wanted to hear them laugh, and I think that is the saddest part," Anderson said. "My son did this because he thought these kids would think that he was doing something for them at his own expense."

The event has been difficult for his son and family to grapple with, the elder Anderson said. He is calling for people to treat those with disabilities with more kindness, and added the kids who bullied his son "got a slap on the wrist." He said not only does more need to be done to hold bullies responsible, but the institutions where these incidents are happening should also be held to account.

Peter Whittingham, board chair of the Down Syndrome Organization of Southern Nevada, said bullying has undergone what he calls a transformation. It is no longer just physical, he said, but also involves deeper emotional and psychological impacts, in part because of social media.

Whittingham says many who are part of the school-age population, in his words "exploit the lack of comprehension and inability to make coherent decisions" of those with disabilities. While the state of Nevada does have anti-bullying laws on the books, Whittingham and others are calling on policy makers to find better solutions to mitigate events like this from happening.

"It is time for legislation to be enacted that provides for significant consequences, not just adding in stricter sanctions, but penal consequences for individuals who bully persons from the disability community to the extent that it creates significant emotional trauma."

Whittingham added as a parallel example, there are current laws that take into account the inability for infants and children to make decisions and say "no." He argues a similar approach needs to be taken to protect those with disabilities. If you witness bullying, you can report the incident to a school administrator or at SafeVoiceNV.org, or call the 24-hour hotline at 1-800-216-7233.


get more stories like this via email
Health and Wellness
Most people probably never give a second thought to their visits to the dentist, but not everyone can navigate this process with ease. People with …
Social Issues
Christmas is a little more than two weeks away, and toy drives around the country are in full swing. A North Dakota organizer shares some things to …
Social Issues
A federal judge in Nevada has dealt three tribal nations a legal setback in their efforts to stop what could be the construction of the country's larg…

Environment
Hoosiers could get their holiday trees from any of about 200 tree farms in the state, according to the Indiana Christmas Tree Growers Association…
Social Issues
Reports from the Insurance Commissioner's office and the state Attorney General reveal an analysis of what they call "the true costs of health care" i…
Health and Wellness
The holiday season is filled with recipes passed down from years before, and feasting with family and friends. But think again before you have …
Environment
Connecticut lawmakers are reluctant to approve new emission standards that would require 90% cleaner emissions from internal-combustion engines and re…
Environment
While lawmakers and environmental groups strive to lower vehicle emissions and the nation's carbon footprint, many truckers see unrealistic …