Leading Cause of death for Hispanic Women? Breast Cancer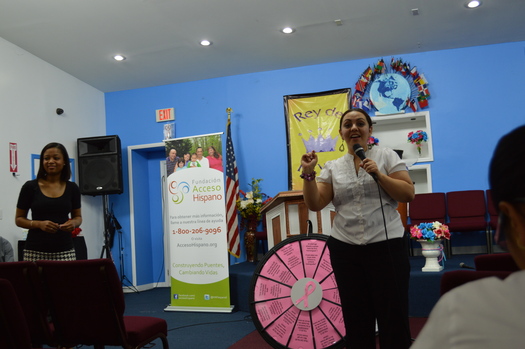 PHOTO: The Hispanic Access Foundation is holding workshops in New York to educate about prevention and early detection of breast cancer. The CDC reports that breast cancer is a leading cause of death for Hispanic women in the U.S. Photo courtesy of HAF
August 15, 2013
NEW YORK – The importance of screening and early detection for breast cancer may seem well known.

But according to the Centers for Disease Control and Prevention (CDC) not everyone has heeded the message and breast cancer is a leading cause of death for Latino women.

A campaign is under way in New York to change that called Together We Can Defeat Cancer.

Maite Arce, president of the Hispanic Access Foundation, explains why poor health outcomes are common in the Hispanic community.

"In some cases it's misconceptions about the issue of cancer, just not knowing where to turn for credible, quality information," she explains. "And also a lack of health insurance in many cases."

Arce says workshops are offered, often connected to faith-based services, to dispel myths and provide a list of resources for screenings and treatment.

There's a workshop tonight at Ebenezer Baptist Church in Woodside, and one Friday night at the Baptist Church of the Americas in Queens Village.

The CDC is funding the project, which includes a toll-free line to connect people to resources (1-800-206-9096).

Angelica Medina is the bilingual outreach coordinator at Adelphi Sisters United in Health in Garden City. She's been scheduling workshops, and says while her group tries to keep the mood light, this is a serious topic, especially since the Hispanic population is projected to double by 2050.

"We see that Hispanic women are diagnosed at later stages with more aggressive rates of cancer, and they also are more likely to delay treatment," she explains. "We see higher mortality rates in these communities."

Medina says women over 40 should be screened for breast cancer regularly, and that's not the only cancer of concern.

Colorectal cancer is the second most common cancer among Hispanic men and women. Those screenings should start at age 50.

A list of workshops is at HispanicAccess.org.



Deborah Courson Smith/Deb Courson Smith, Public News Service - NY