Extreme Cold, Major Snowstorm Pose Serious Health Risks for Michiganders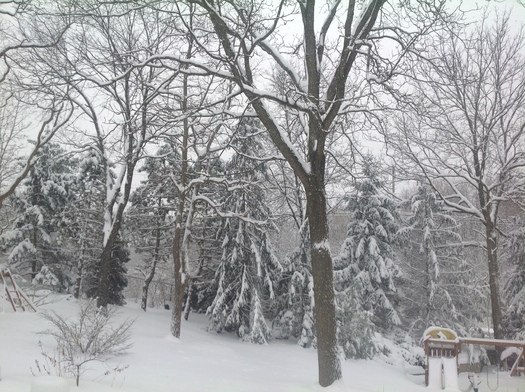 PHOTO: As picturesque as the freshly fallen snow may be, doctors encourage Michiganders to enjoy the view from inside because the extreme cold poses serious potential health risks. Photo courtesy of Mona Shand
January 6, 2014
LANSING, Mich. - With much of the state enduring a blast of Arctic air and wind chills dipping far below zero, doctors warn that this is no ordinary winter weather, even for the heartiest Michiganders.

According to Dr. Kathryn Imberg, an emergency-room physician at Sparrow Hospital, in these conditions, unprotected skin can become frostbitten in just five minutes of exposure, and the consequences can be permanent. These might include "severe tissue damage that is similar to burns, some muscle and bone involvement which can cause tissue death and possible amputation, chronic scarring. "

Imberg said frostbite begins with numbness or tingling and progresses to a loss of feeling in the affected areas. She said the feet, hands and face, including eyes, are most susceptible. Anyone who suspects being frostbitten should seek immediate medical attention.

The best way to prevent frostbite or other cold-weather-related issues such as hypothermia is to stay indoors, but Imberg said those who must be outside need to dress in multiple layers and to avoid using alcohol or tobacco. She urged everyone to do whatever it takes to find some sort of shelter until the cold snap breaks.

"There are homeless shelters and churches that accept people from outdoors. The hospitals are always warm, so just find a warm place to go."

Several community organizations that run warming centers and shelters, including the Salvation Army and the Coalition on Temporary Shelter, are asking for donations of warm blankets, socks, hats, and scarves, so they can further help those in need.