DEC to Join Pilgrim Pipeline Environmental Review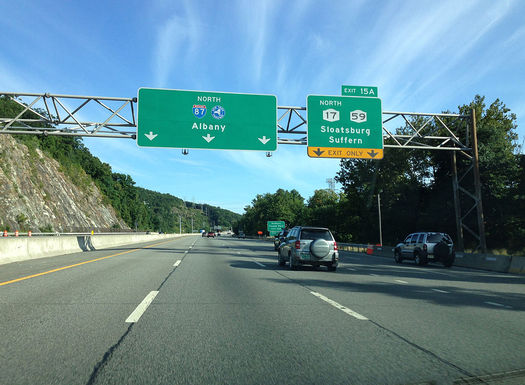 The proposed pipeline would follow the New York State Thruway from Albany to New Jersey. (Famartin/Wikimedia Commons)
December 23, 2015
ALBANY, N.Y. - The Cuomo administration says the Department of Environmental Conservation will co-lead the environmental review of a pipeline proposed for the Hudson Valley.

The pipeline would follow the New York State Thruway, and the Thruway Authority had been handling the review alone. The governor's announcement is welcome news to Conor Bambrick, air and energy director of Environmental Advocates of New York.

He points out if it's built, the dual pipeline would carry highly volatile crude oil south from Albany to New Jersey, and refined products back north.

"Crossing over hundreds of acres of water bodies, wetlands, something along the lines of 232 crossings of streams," says Bambrick. "So there's a significant threat to land and water resources."

Bambrick says the inclusion of the DEC in the environmental review shows that the governor's office recognizes the importance of getting it right.

Cuomo has committed the state to reducing carbon pollution by 80 percent over the next 34 years and as Bambrick notes, the DEC has a policy that any permitting decision must consider a project's impact on the climate.

"And we're not just talking about the immediate impacts where the pipeline is located, we're talking about examining where the fuel is sourced and what the climate impacts are there, and ultimately the end use when these products are being burned," says Bambrick.

Environmentalists say building new fossil fuel infrastructure is incompatible with actions to combat climate change.