Workers Picket Two Calif. Eateries Over Choice of Produce Supplier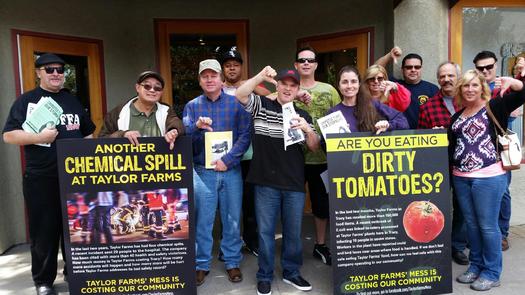 Workers from Taylor Farms, a supplier for Chipotle, protested Thursday at two of the chain's California restaurants. (Teamsters Joint Council 7)
March 25, 2016
SACRAMENTO - Adding to Chipotle's woes, workers from one of its suppliers protested at two California restaurant locations on Thursday, alleging food safety and labor violations - not by Chipotle, but by the supplier.

About 40 workers from Taylor Farms, which is based in Tracy, picketed at Chipotle restaurants in Manteca and Sacramento.

Taylor Farms supplies tomatoes and other cut vegetables to Chipotle, as well as to many grocery chains around the nation.

Doug Bloch, political director for the Teamsters Joint Council 7, helped organize the protest, aimed at the produce supplier.

"Workers report things like dirty water being used to wash tomatoes, freshness labels being changed on the products before they're shipped out," he says. "And we think it's a dangerous environment for workers and also for consumers."

Chipotle has been forced to close stores multiple times in the past year due to outbreaks of food-borne illness, and the Centers for Disease Control and Prevention has said tainted produce may be the cause, but the issues have not been traced back to Taylor Farms.

Taylor Farms did not respond to a request for comment.

Bloch says the Teamsters Union represents 2,500 workers at the Taylor Farms plant in Salinas, and doesn't see the same problems there.

He adds the union has been trying to organize 900 workers at the Taylor Farms' location in Tracy for the past two years.

"In 2012, 20 workers were hospitalized after a chemical spill," says Bloch. "Last year, the same accident happened and in the meantime, California OSHA has cited the company for almost 50 different violations of California law."

Bloch says Thursday's protests are just the beginning; the union plans to picket other Chipotle locations and grocery stores that get produce from Taylor Farms.