President's Tweets Spark Outrage, Fear for Transgender Community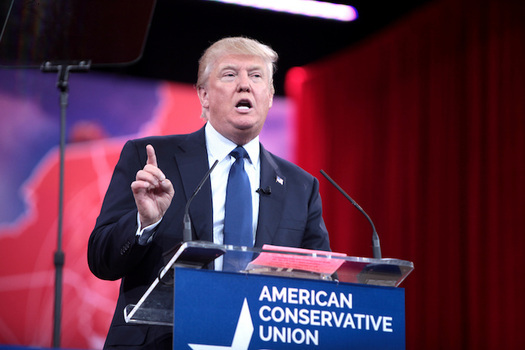 Trump's plan to ban transgender troops is drawing criticism and outrage. (Gage Skidmore/Flickr)
July 27, 2017
LANSING, Mich. – He pledged to defend their rights, but President Trump now says transgender individuals can't defend their country, which activists say could set off a ripple effect of discrimination.

Stephanie White is executive director of the advocacy group Equality Michigan and also served five years in the U.S. Army as a commander in the Second Infantry Division. She says all military service is built on a foundation of trust, and when the commander-in-chief calls your trustworthiness into question, the results will be far-reaching, and not limited to the military.

"Whenever you have a leader setting a tone that says this kind of bigotry is OK, then we see an increase in harassment, and discrimination, and sometimes violence toward that targeted community," she explains.

White says any member of the LGBTQ community, military or otherwise, who feels threatened should contact Equality Michigan, where staff members can help connect people with medical, legal and other resources.

In his tweets, Trump cited medical costs and disruption as the rationale for the ban, but White believes this is simply part of a pattern of discrimination by the administration. She hopes Michiganders who oppose this ban will show that with words and actions.

"Push back against this message that some people are less equal, less trustworthy, to say actually in Michigan we think that everybody should be judged based on their work ethic and not based on who they love or how they dress," she says.

The ban, if enacted, would reverse an Obama administration decision last year that allowed transgender people to serve openly. During the campaign, Trump called himself a "real friend" of the LGBT community.