Awards to ND Towns for Building Healthy, Vibrant Communities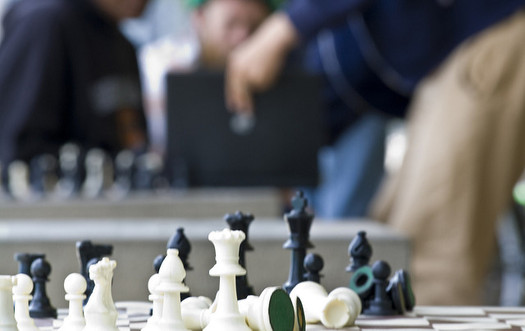 The Hettinger Area Chamber of Commerce hopes an outdoor game space will help bring generations together. (Brandon O'Connor/Flickr)
August 9, 2018
BISMARCK, N.D. – Three North Dakota towns are getting a financial boost for projects to help improve life in their communities.

AARP's Community Challenge grant program is distributing $1.3 million across the country to help fund 129 projects to improve safety, transportation, parks, access to housing and more.

The Hettinger Area Chamber of Commerce is among the winners, and Executive Director Jasmin Fosheim says an outdoor game space will be installed in Hettinger's community plaza to help people of all ages connect.

"Who doesn't love a good game of cornhole or chess?" she raises. "And we thought it was a great way that we could span generations: find something that everyone is going to enjoy, something that's not going to be political in the slightest. Let's get people together to play some games!"

Grants were also given to the Buxton Park Board and the City of Grand Forks.

Buxton will use the money for playground equipment and a shelter in its renovation of a public park.

In Grand Forks, a pop-up demonstration project was installed to make Main Street safer and more inviting.

Stephanie Halford, a planner with the Grand Forks Planning and Community Development Department, says the city is turning its downtown into a healthy, vibrant space that can become everyone's neighborhood. She adds her department was exciting to see so many volunteers dedicate their time to create the pop-up project.

"We had a high school art class paint a mural on the sidewalk, as well as another group of students paint some benches and some flower pots," she relates. "We had some downtown development associations help with putting the bump-outs in, as well as a couple of city departments. "

This is the second year for the AARP Community Challenge, which encourages projects that can be finished quickly.

The deadline for towns to complete this year's projects is Nov. 5.