MN's Rural Students to See Broadband Relief from Federal Bill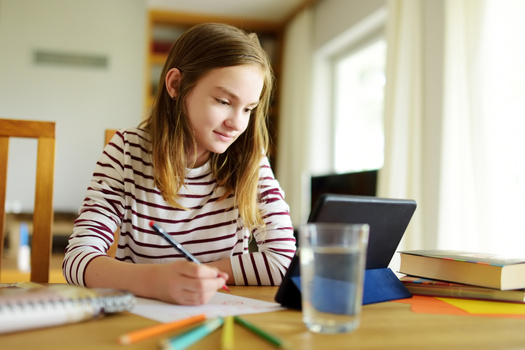 Tuesday, November 30, 2021
PRINCETON, Minn. -- President Joe Biden is expected to visit Minnesota today to tout passage of the new federal infrastructure bill.

Those working to fill broadband gaps for students in rural areas say the new plan should be a big help. According to the White House, Minnesota is poised to receive at least $100 million to expand broadband coverage across the state, with the possibility of more funding based on needs in certain areas.

Marc Johnson, executive director of the East Central Minnesota Educational Cable Cooperative, said as the pandemic took shape, many of the rural districts in his region had to get creative to ensure their students still were getting lesson plans.

"Sending work back and forth on buses, you know, to kids so that they could paper copies of things and things like that," Johnson recounted.

Johnson pointed out it also was hard for rural districts to set up Wi-Fi hot spots to keep students connected, in part because of weaker cellular signals. He added the funding is vital amid concerns students who could not fully participate in distance learning encountered setbacks in their academic performance.

Johnson also serves on the Governor's Task Force on Broadband. He emphasized Minnesota's east-central region serves as a "bullseye" for underserved areas when it comes to high-speed internet. He noted the extra money will take a lot of pressure off families and schools.

"Districts won't have to spend the money that they're spending right now on all of these measures to help families that don't have access," Johnson stated.

Combined with the $70 million in broadband spending approved by the state earlier this year, Johnson predicted the federal investment will "move the needle" in reducing gaps. Currently, 12% of Minnesota households do not have an internet subscription. The White House said the new funding will also help with internet affordability.


get more stories like this via email
Social Issues
Voting advocates say more and more Michiganders are choosing to cast absentee ballots to save time and avoid long lines on Election Day. In 2020…
Social Issues
With the election a little over a month away, some say caregiving and long-term care are issues too big for candidates in Oregon to ignore. There …
Health and Wellness
COVID upended many routines, including Texas parents getting kids in for regularly scheduled childhood vaccines. Data from the Texas Department of …
Environment
Pennsylvania has a strong commitment to urban agriculture and community gardening, and some groups in the state are working to get more colorful …
Environment
Georgia Power is reducing its reliance on coal by phasing out several coal-fired units. However, clean-energy advocates say the company should …
Social Issues
A new report on Black students in the community college system found fewer are signing up to attend two-year schools, and the college enrollment …
Environment
Greenhouse gas emissions have been potentially reduced by 50,000 tons in the state, with the help of Wisconsin farmers supported by a statewide …
Social Issues
Social Security benefits again could see their highest increase in several decades, but those advocating for beneficiaries say there is still plenty …