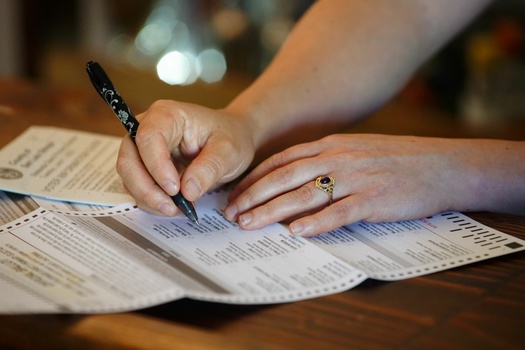 Tuesday, October 25, 2022
More than 644,000 Arizona Latinos are expected to cast their ballots in November. That's a 9.6% increase in Latino voter turnout since 2018, and an increase of 77% since 2014. Those estimates are from the National Association of Latino Elected and Appointed Officials . Dorian Caal, the group's director of civic engagement research, said the projections are created using trend analysis and historical data - and they don't take into account factors like outreach efforts which can influence the numbers.

"This number can change depending on what happens leading up the election," Caal said. "And I think one of the biggest factors certainly could be the engagement of the Latino community - lack thereof, or increased engagement."

Caal said their data indicates Latinos are paying attention to the upcoming election, but said many Latinos report they had not been contacted by any party, campaign or organization. He recognized some key moments in Arizona history that most likely led to greater voter mobilization and turnout - including S-B 1070 , the so-called "Show Me Your Papers" law that sparked anti-immigrant sentiment across the state. While immigration-related issues have been top of mind for Latino voters, he added it's important to note that this demographic is not a monolith.

Carolina Rodriguez-Greer, with Mi Familia Vota in Arizona, agreed Latinos are deeply concerned about many issues - from inflation and jobs, to gun safety, crime and abortion rights. She said midterm elections can have a direct local impact. In addition to the highly publicized state and national races, Arizonans will be voting for members of commissions and school boards, and on ballot initiatives. In recent years, her group has had reports of what she termed "somewhat hostile situations" at polling locations. But she remains optimistic.

"This gives me so much hope to expand and broaden the diversity of our state, Rodriguez-Greer said. "Because that means that we have an opportunity to incorporate new voices, new ideas, new perspectives and new solutions to problems that we're trying to solve here in our state."

Mi Familia Vota said 83% of the Latinos in its Arizona survey are likely to vote in the 2022 midterms. Rodriguez-Greer said the group's message is simple: vote, and do so early or by mail. Its website has resources to help people register.


get more stories like this via email
Health and Wellness
Most people probably never give a second thought to their visits to the dentist, but not everyone can navigate this process with ease. People with …
Social Issues
Christmas is a little more than two weeks away, and toy drives around the country are in full swing. A North Dakota organizer shares some things to …
Social Issues
A federal judge in Nevada has dealt three tribal nations a legal setback in their efforts to stop what could be the construction of the country's larg…

Environment
Hoosiers could get their holiday trees from any of about 200 tree farms in the state, according to the Indiana Christmas Tree Growers Association…
Social Issues
Reports from the Insurance Commissioner's office and the state Attorney General reveal an analysis of what they call "the true costs of health care" i…
Health and Wellness
The holiday season is filled with recipes passed down from years before, and feasting with family and friends. But think again before you have …
Environment
Connecticut lawmakers are reluctant to approve new emission standards that would require 90% cleaner emissions from internal-combustion engines and re…
Social Issues
Another controversial move in Florida's education system is a proposal to drop sociology, the study of social life and the causes and consequences of …