Earning Stars: Minnesota's Top-Rated Child Care Providers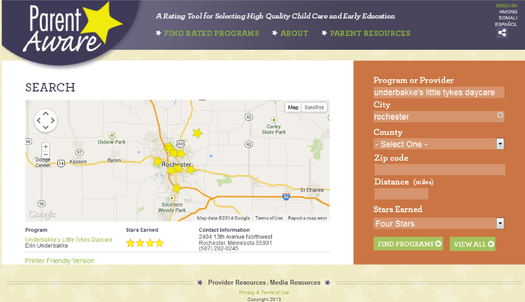 IMAGE: Minnesota's voluntary quality rating system for child care providers now has surpassed 1,000 and Parent Aware goes statewide next year. Image credit: John Michaelson
January 27, 2014
ROCHESTER, Minn. - The number of day-care providers helping to raise the bar on quality early childhood in Minnesota has now surpassed one-thousand. The providers are enrolled in the voluntary rating program called "Parent Aware."

Minnesota Human Services Commissioner Lucinda Jesson remarked that the voluntary rating system helps providers stay up to date and helps parents more easily find high-quality care and early education.

"I want people to know," she declared, "they should look for quality-rated child care homes because their kids are going to get off to a better start and be more prepared for kindergarten if they do."

Jesson said kids who are ready when they get to kindergarten have better odds for future success, and that's important to all Minnesotans.

In Olmstead County, the program was put in place last year and one of the top-rated programs in that area thus far is Underbakke's "Little Tykes Daycare" in Rochester. That's where Erin Underbakke and her husband take care of a dozen children, from four months to nine years

"I'm always taking different trainings and trying to stay on top of everything," Erin Underbakke said. "This just shows that the providers who are doing this are willing to take an extra step and further their education to help get these kids ready for school."

The Parent Aware rating system is set to go statewide next year.

More information on the program and those providers taking part can be found online at ParentAwareRatings.org.