Coal Ash Spill Continues to Dump into Dan River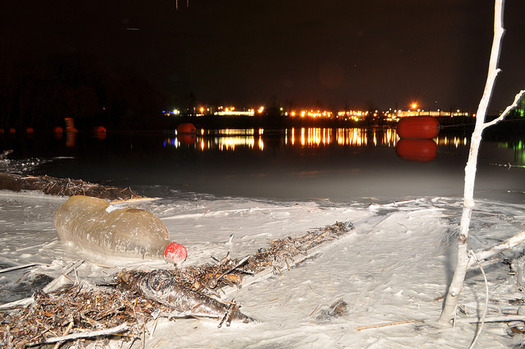 PHOTO: Ashen remnants along the Dan River after the Eden Plant coal ash discharge. Courtesy: Appalachian Voices
February 5, 2014
DANVILLE, Va. - The "what if" has happened for the Dan River, which runs along the Virginia and North Carolina border.

As much as 82,000 tons of coal ash have been discharged so far because a 48-inch stormwater pipe broke at Duke Energy's Eden power plant on Sunday afternoon. Amy Adams, North Carolina campaign coordinator for Appalachian Voices, is touring the river and said coal ash still is being discharged.

"The water is very murky, very gray, very ashen below where the discharge is," she said. "Above that discharge, there's a very marked change in the color of the river. "

According to Duke Energy, the coal ash discharged so far would fill up to 32 Olympic-sized swimming pools. Coal ash is a waste product of coal-fired power plants. The Eden power plant is retired, but a 27-acre pond remains at the site. Duke Energy says it is cooperating with the North Carolina Department of Natural Resources and other state officials.

Coal-ash ponds currently are not required to be lined, and environmental studies have found toxins such as mercury, lead and arsenic in the groundwater around other coal-ash ponds.

Jared Saylor, campaign director for Earthjustice, said it's time something is done.

"This is toxic waste that's essentially dumped into unlined and unmonitored pits and landfills, right next to these power plants," Saylor said. "Our household garbage is better regulated than coal ash that's coming out of these facilities."

The coal ash spill on the Dan River is 20 miles upstream from where the city of Danville pulls water from the river for drinking water. So far, city officials say the water is testing within safe limits. Adams said this spill is another example of why EPA regulations for past and future coal-fired power plants are so important.

"It is an example of why it's important," she said, "and it's a perfect illustration of why groups like Appalachian Voices advocate for even closed plants that have these relic, unlined coal-ash ponds, to change over to a lined handling system."

The EPA has announced plans to finalize the first-ever federal regulations for the disposal of coal ash by December. Duke says the pond's dam remains secure. The utility is facing criticism from some environmental groups for not releasing news of the spill to the public until Monday.