Alpine Lakes Bill Takes Another Step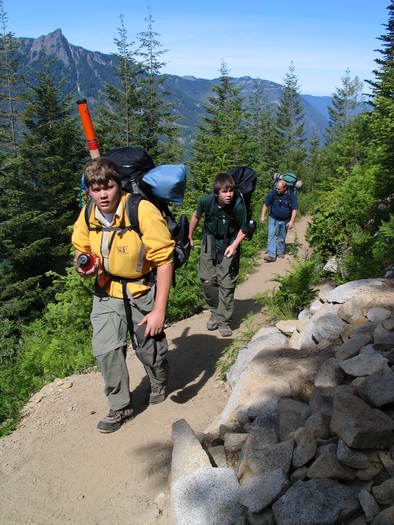 PHOTO: Part of the popular Mount Defiance trail system is within the current boundaries of the Alpine Lakes Wilderness Area, and part is in a proposal to expand it. That legislation emerged from a House committee this week. Photo credit: Charlie Raines.
July 31, 2014
SEATTLE - Legislation to expand the Alpine Lakes Wilderness Area near Snoqualmie Pass has been inching its way through Congress for about seven years, but there was good and bad news for Alpine Lakes fans and supporters on Wednesday.

The bill (HR 361) was approved with a group of other public lands measures by the House Natural Resources Committee, but was amended to remove about 600 acres from protection - including low-elevation forestland - and to allow military flyovers and logging, termed "mechanical thinning," for wildfire prevention.

Tom Uniack, conservation director for Washington Wild, says the changes weren't necessary, and some run counter to the aims of the bill.

"Legislative language has been added, much of which doesn't apply to our bill, like overflights and some really aggressive wildfire language," says Uniack. "And there are some concerning amendments that would really weaken the Wild and Scenic River protections for the two rivers in the bill."

The Senate has already passed Alpine Lakes legislation without amending it, so the differences between the two bills will now have to be negotiated. Uniack says it's unlikely that will happen this week, but he credits Congressman Dave Reichert for getting the House version of the bill this far. The amendments were made by the House committee chair, Congressman Doc Hastings.

Uniack says the reasons for expanding the Alpine Lakes Wilderness by 22,000 acres are underscored by the area's proximity to Seattle. The Wilderness has long been one of the most popular recreation destinations in the state, so protecting it and ensuring public access are dual challenges. Overall, Uniack says, conservation groups see this week's committee vote as a step forward.

"This bill has all the local support you'd want, from over 300 elected officials, sportsmen, faith leaders, local businesses," he says. "Wilderness bills - and laws themselves - really take a long time to pass, but we feel like it's definitely worth the effort and the wait."