New L.A. Earthquake Retrofit Plan Emphasizes Economic Impacts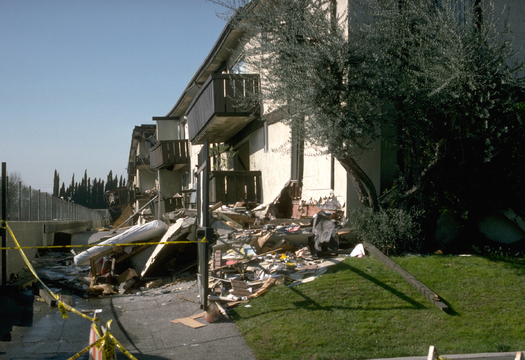 PHOTO: The collapsed Northridge Meadows apartment building following the 1994 Northridge earthquake. L.A. Mayor Eric Garcetti's retrofitting proposal calls for strengthening thousands of similar buildings with ground-floor carports. Photo credit: U.S. Geological Survey.
December 22, 2014
LOS ANGELES – The founder of California's Great Shakeout public awareness earthquake drills says Mayor Eric Garcetti's sweeping earthquake retrofit plan for the city of Los Angeles is the most comprehensive approach to seismic safety ever undertaken in the state.

U.S. Geological Survey seismologist Lucy Jones was contracted by the city to help develop the plan earlier this year. As Garcetti's science adviser, Jones says she's helped identify factors that could aggravate relief and recovery efforts in the days and weeks following a major earthquake.

"It's a very grim picture," she says. "Some of the biggest disasters turn to catastrophe when you can't hold the economy together. People leave the region and long-term depression sets in."

The proposal takes a big picture look at what a major earthquake would be like in L.A., particularly with older masonry buildings, which Jones says would wipe out affordable housing, shut down commercial districts, and cause significant casualties unless otherwise retrofitted.

Jones also says the state's already-perilous water supply remains vulnerable. Damage to waterlines would not only harm immediate firefighting capabilities, but delay long-term recovery.

"If we badly damage our water system and the distribution and pipes getting to your house, you can survive a few days without water," she says. "But you can't reopen a business - you can't open a beauty salon, you can't open a restaurant - if there's no water."

Garcetti estimates the cost of the project is in the billions of dollars, but notes the amount is smaller than the cost of damage from a major earthquake if the retrofitting plan is not implemented.

Another one of the economic considerations is a major quake's expected effect on communications, which Jones points out plays a much greater role in daily life today than when the Northridge quake struck in 1994.

"In the 20 years that we haven't had a significant earthquake, telecommunications has gone from being an amenity to a core necessity of our economy," she says.

Garcetti's plan calls for wooden structures built before 1980 to be retrofitted within five years, particularly the thousands of apartment buildings in the region with what are described as weak first floors used as carports. Concrete buildings built before 1980 are to be retrofitted within 30 years.