LGBT Groups Condemn Lawmaker's Claim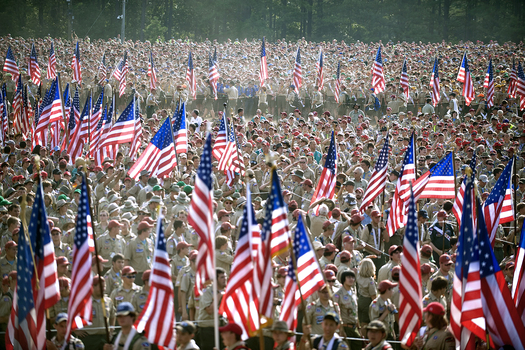 Boy Scouts of America event. Credit: U.S. Defense Department.
July 30, 2015
DENVER – Colorado State Rep. Gordon Klingenschmitt is coming under fire for his controversial comments about the Boy Scouts of America ending a ban on openly gay men serving as scout leaders.

During a recent religious broadcast, Klingenschmitt, who has a history of making controversial comments, said that allowing gay men to lead boys will lead to child abuse.

"Men, who are openly admitting that they are engaged in all kinds of sodomy, and now they are going to be leading young boys," Klingenschmitt said. "Father, we grieve about this. The Boy Scouts used to be an honorable Christian organization that does their duty and honors God, and now, Father, they are thumbing their nose at God."

Klingenschmitt also quoted scripture in which, he says that Jesus said about child molesters, "If you are going to cause a child to sin, it would be better if you just had a millstone hung around your neck and you were drowned in the depths of the sea."

Rex Fuller, communications director of the GLBT Community Center in Denver, says he believes Klingenschmitt is trying to stir up his politically conservative voter base. He adds that the long held belief by some people that gay men are child molesters is simply not true.

"The ridiculous lies that Rep. Klingenschmitt was spouting about gay men being child molesters is simply laughable," Fuller states. "There are many studies that would indicate the majority of child molesters are actually heterosexual men."

Fuller says he applauds the Boy Scouts for the policy change, which also allows church-based scout units to select their own leaders, which means gay men can be restricted from leading scout troops.