Kentucky Ranked Last in Nation, Again, in Protecting Animals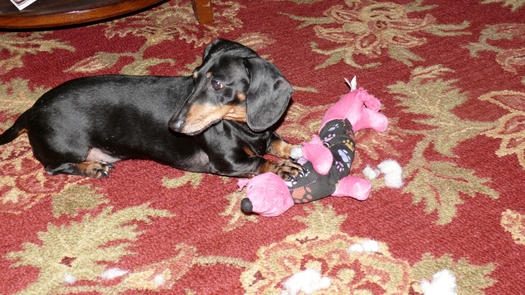 While Gunther, above, has a good home, some dogs in Kentucky aren't so lucky. According to a new report the state has the worst animal-protection laws in the nation. (Greg Stotelmyer)
December 18, 2015
FRANKFORT, Ky. - Sen. Tom Buford, who for more than a decade has fought an uphill battle in the state Legislature to improve Kentucky's animal-protection laws, is not surprised that Kentucky ranks worst in the nation at protecting animals.

The 2015 rankings by the Animal Legal Defense Fund place Kentucky 50th for the ninth straight year. Buford blamed it on a culture in parts of Kentucky where he said people believe they should be able to treat an animal however they want.

"We look like a backwards state," he said. "You know, it just shows that we don't have that much respect for the life of others - and I would include that to being human beings. If they would treat an animal like that, they probably would not be that friendly to humans. I think it's terrible."

Buford, R-Nicholasville, said he was "lucky" to get a law passed in 2008 that made it a low-level felony, in some cases, to torture a dog or cat. A public outcry over videotape of a man in Pulaski County cruelly beating his dog fueled the push for action. However, Buford said there's still a reluctance in many courts to convict.

Animal Legal Defense Fund attorney Lora Dunn said the absence of felony provisions for the neglect or abandonment of animals is one reason Kentucky's laws are the worst in the nation.

"These animals that are being denied basic care, like food and water - their suffering is really prolonged," she said. "It can go on for months of years. We believe that the penalty should fit the crime."

Dunn said Kentucky is the only state where veterinarians are prohibited from reporting suspected cruelty or fighting.

"That's really such an important component of helping these animal victims," she said, "so we would encourage Kentucky to make a change and actually require veterinarians to report cruelty."

Buford agreed, saying a vet often can tell if an animal has been abused.

"That would be a good one to have in there, basically, to stop all this dog fighting here," he said. "And, of course, the other issue is the horses. A lot of horses around here are extremely mistreated - Tennessee walking horses."

While Kentucky ranks worst in the nation for animal-protection laws, neighboring Illinois has the best laws, according to the 2015 report.

The report is online at aldf.org.