Rock Band Brings Financial Literacy Message to AZ Students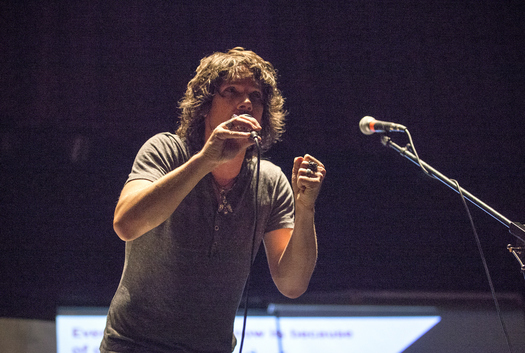 Gooding, lead singer for the band of the same name, talks with high school students about how to make smart financial decisions in their lives. (Gooding Music)
March 29, 2016
GLENDALE, Ariz. - Most people don't think of putting financial literacy to a rock 'n' roll beat, but a program coming to an Arizona high school today does just that.

Through the music of the band "Gooding," the Funding the Future program will both entertain students at Jefferson Prep in Glendale and teach them to make good financial choices in life.

The band's front man, who also goes by the name Gooding, says the earlier kids learn how to handle money, the less likely they are to make life-altering mistakes.

"The thing for me with financial literacy and especially trying to reach kids, you know, reach students - they haven't made these mistakes," says Gooding. "I just want the information to be out there. I think, you know, that in order to make some kind of an informed decision, we've got to get it out there."

Gooding says after a few songs, band members give students their own personal stories about handling finances.

He says topics include getting an education, "slow and steady wins the race," and avoiding financial pitfalls.

Gooding says kids need to know that, for most folks, winning the lottery or getting a big record contract isn't going to happen.

He adds it's particularly important for young people to avoid getting caught up in so-called payday loans, with super-high interest rates, which he sees as one of life's biggest financial traps.

He warns that some businesses are currently trying to bring high-interest "flex-loans" to Arizona.

"I understand, if you don't pay your debts, I get it. But payday, we've seen some in the South up to 1,300 percent interest," says Gooding. "My understanding on the flex loans, from the article I read, is that you guys are looking at, what, 204 percent? You know, if you get in a situation where you lose your car, you are in a bit of a loop there."

Arizona banned payday lending several years ago, but he's referring to a bill that would allow flex-loans of up to 204 percent interest that's been passed by the state House and awaits action in the Senate.