Wildfires Spark Public Health Warnings from State Officials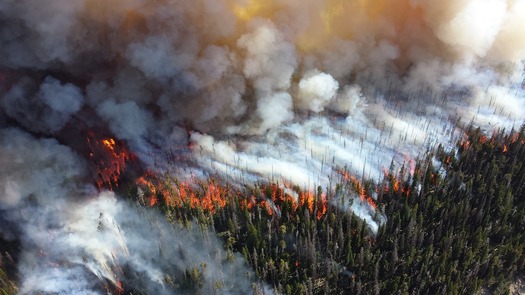 State officials have issued health warnings over smoke from wildfires and increased ground-level ozone pollution. (Pixabay)
July 14, 2016
DENVER – Colorado caught a break with heavy spring rains, but after a series of hot, dry days, wildfire season is now fully underway.

Six fires burning across the state this week could leave some residents feeling out of sorts.

Dawn Mullally, director of air quality and transportation with the American Lung Association in Colorado, says exposure to particulates in smoke, even from distant fires, can impact the upper respiratory system.

"People who have asthma or respiratory issues, their symptoms are going to increase," she points out. "You're also going to have eye irritation, difficulty breathing, wheezing, shortness of breath, just general respiratory problems and weakness."

The Colorado Department of Public Health and Environment issued an air quality health advisory for Fremont County's Hayden Pass wildfire, which had consumed more than 13,000 acres by Wednesday.

Mullally says people experiencing symptoms should consider staying indoors, and she recommends turning air conditioners to recirculate mode to keep particulates from entering the home.

She says the most important thing is to follow any evacuation orders and make sure you're in a safe area.

The state also issued ozone alerts this week for the Front Range. Unlike the protective ozone layer in the stratosphere, ground level ozone is a health hazard created when car exhaust and other pollutants are cooked in heat and sunlight.

Mullally says children, seniors and people with asthma or other respiratory or heart conditions need to be especially careful, but anyone working or exercising outside can also be affected.

"These could be people who are perfectly healthy otherwise, but when you have wildfires and high ozone conditions, perfectly healthy people can also be at risk," she explains.

Mullally says as climate change brings hotter summers and increased risk of wildfires, it's a good idea for people with asthma to keep their inhalers nearby, and for anyone with health conditions to continue following doctor's orders by taking medicines and oxygen as prescribed.







Eric Galatas, Public News Service - CO