Clean Energy Roadmap for NY and New England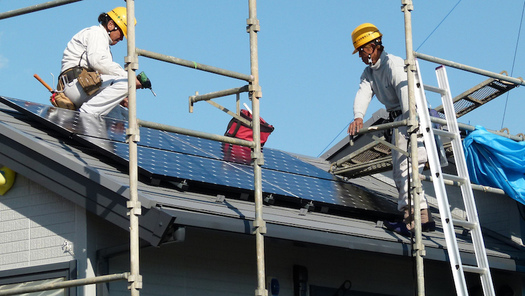 The analysis says distributed solar power in New York can grow by nearly 13,000 megawatts by 2030. (Bernd/Flickr)
By Andrea Sears, Public News Service - NY - Producer, Contact
May 10, 2017
NEW YORK - Stepping up efforts to move to a clean-energy future in New York and six New England states can put a major milestone within reach, according to a new analysis from the Acadia Center.

The group's "EnergyVision 2030" report shows how the Northeast can accelerate cuts in carbon emissions to achieve an overall 45 percent reduction in the next 13 years. Report co-author Jamie Howland, director of the center's Climate and Energy Analysis Center, pointed to the Regional Greenhouse Gas Initiative (REGGI) and New York's Clean Energy Standard as examples of policies and practices that are making a real difference.

"These Northeastern states have already demonstrated they can lead on these issues," Howland said, "and we're trying to light the way where additional leadership in some other areas will really help put the region on track."

The analysis indicated that more work needs to be done in four key areas - grid modernization, electric generation, building efficiency and transportation - to reach carbon-reduction goals.

In New York, Howland said, there should be a bigger focus on energy efficiency, which he calls "the cheapest fuel."

"Every kilowatt hour of energy efficiency is substantially cheaper than purchasing that kilowatt hour, which will have been generated by fossil fuel that's imported into the region," Howland said, "and so the economic benefits of energy efficiency are really big, too."

The analysis found that in New York, increased efficiency and electric heat pumps could reduce fossil fuels consumed in buildings nearly 24 percent by 2030. In recent years, consumers have seen electric cars improve and solar panels become more common.

Howland said he believes there is real reason for optimism.

"The markets have already started," he said, "and what we need to do is give that extra push that policies can do to spur those markets and really make them grow, so that we're on track for that 2030 goal."

Howland added that achieving a 45 percent carbon-pollution reduction by 2030 is critical to reaching the 80 percent reduction required by 2050 to avoid the worst impacts of global climate change.

More information is online at 2030.acadiacenter.org.