Holiday Shopping Grinches in NH? How to Avoid Losing Your Loot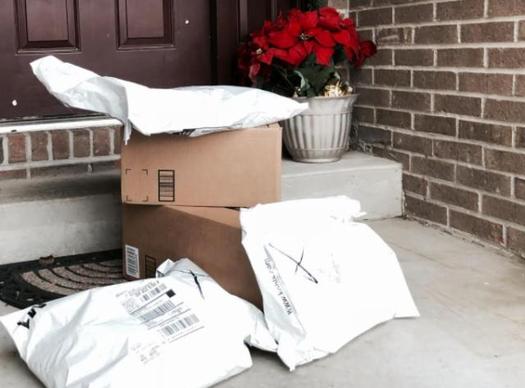 What's on your porch, and who's looking out for it? It's estimated that 23 million people each year have packages stolen. (M. Kuhlman)
December 15, 2017
CONCORD, N.H. – The thieves, crooks and scammers who prey on consumers don't take a holiday. They run their ploys every day, trying to steal people's identity or money.

As a volunteer Fraud Fighter with AARP New Hampshire, Norma Boyce says they're hearing about many online holiday-related schemes, including fake shopping sites and apps featuring bogus sales pitches or deals. She says it's important to remember the old adage - "If it sounds too good to be true, it probably is."

"Scammers like to let you think you're getting something at a discounted rate or even free," she says. "And then, they turn around and they get your, perhaps credit card number - perhaps your address, your phone number - anything they might be able to use in the future, and use against you."

AARP says older Americans are generally getting wiser about online scams, and people over 55 actually are less frequently fooled than younger consumers. But when folks over 55 do fall for a con, they tend to lose more money than younger people.

While mobile devices have made online shopping much easier to accomplish on the go, Boyce says sensitive information should never be sent over unsecured, public Wi-Fi where activity is potentially visible to hackers. And whether shopping on the Web or in a store, she notes it's safer to use a credit card rather than a debit card.

"The debit card is an instant reduction from your checking account, whereas a credit card, you have the opportunity to argue with a particular charge," she explains. "And usually the credit card company, even though you have to file paperwork, will give you credit for what you're saying you didn't purchase."

Another scam that runs year-round but is especially prevalent during the holidays involves package delivery. Boyce says thieves will follow a delivery truck to an address and then, grab packages right off the front steps.

"This requires extra effort on the part of the purchaser to make sure that the package is safe," she adds. "Have a neighbor watch out for a delivery truck in your area, if you don't happen to be at home. You can make sure that it has to be signed for if you want that extra protection."

An estimated 23 million people each year are the victims of package theft. Learn more about holiday scams and how to avoid them online at aarp.org/holidayscams.
Mary Kuhlman, Public News Service - NH