Money Grows on NC Wind Farms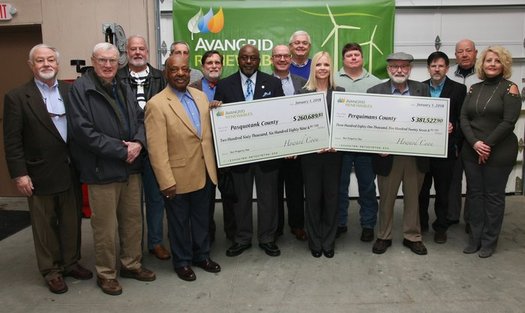 Two eastern North Carolina counties received more than $640,000 in tax payments from the Amazon Wind Farm. (Avangrid Renewables)
January 22, 2018
BELVIDERE, N.C. – Money may not grow on trees, but it does on wind farms in North Carolina.

This month, the Amazon Wind Farm paid the two counties it calls home – Perquimans and Pasquotank – $640,000.

The tax revenue makes the farm, powered by Avangrid Renewables, both counties' largest taxpayer.

While much of the focus on wind power is clean energy, Paul Copleman, Avangrid Renewables' communications manager, says local economies also are winning in the wind game.

"What sometimes can get lost is the fact that it's an extremely successful economic development story, particularly in the communities where wind farms are located," he points out. "You start there, but you also look at the supply chain, you look at all the different companies in North Carolina that supply the wind industry."

Copleman says during the two years it was being built, the project generated more than 500 construction jobs, and now employs 18 people.

In addition to paying taxes, the wind farm makes more than $600,000 a year in lease payments to landowners.

The Amazon Wind Farm project involved more than 30 other North Carolina companies and resulted in the construction of 62 miles of new roads.

Copleman says the gains seen in eastern North Carolina aren't unique to the region.

"When we are the largest taxpayer in two counties – and we certainly hear that that's a boost for the community – and that's a pattern that repeats itself where wind farms are located throughout the country," he states.

Copleman says the Amazon Wind Farm will power the equivalent of 61,000 homes.

The energy generated supplies the current Amazon Web Services Cloud data center.