"AmeriZao" Jujube Tree Cultivated in New Mexico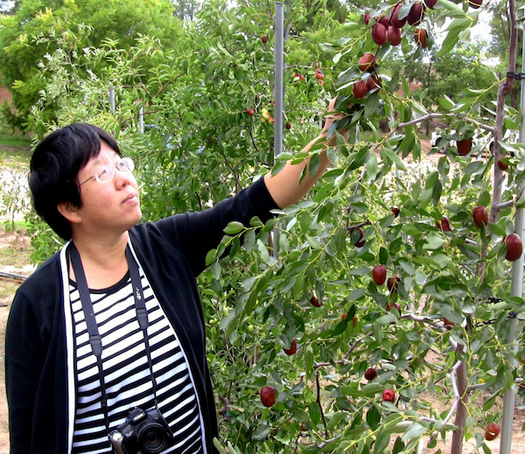 AmeriZao is a newly trademarked name of a jujube fruit tree variety cultivated by New Mexico State University Professor Shengrui Yao. (newscenternmsu.edu)
July 2, 2018
ALBUQUERQUE, N.M. — There are more than 500 varieties of the jujube plant, and one in New Mexico has a newly trademarked name. "AmeriZao" is what New Mexico State University is calling its jujube tree.

Many people aren't familiar with this fruit - it's also known as a red date or Chinese date, since it was grown for thousands of years in China before being introduced into the U.S. in the 1800s. In the early stages of cultivation, jujube trees need water and attention. But Shengrui Yao, associate professor at New Mexico State University, said mature trees can thrive in New Mexico's hot, dry climate; so they've been propagated and tested here.

"So it's quite a reliable crop," Yao said. "Also it's a heat and drought tolerant plant, when they're mature they're relatively drought tolerant."

Yao said 34 varieties received the new trademark, propagated from cultivars she got from China in 2011. Each was studied for traits suited to New Mexico's various climate zones.

Yao described the flavor of jujube fruit as sweet and tart, not unlike an apple. She hopes the research will prompt more Americans to discover and enjoy them.

There are now 50-year-old sour jujube and regular jujube trees in Las Cruces, some 30-year-old trees near the town of Cliff in Grant County, and others in the South Valley near Albuquerque. Because most folks in the U.S. are unfamiliar with jujube, Yao and NMSU have developed a website with photos of each cultivar and information about it.

Yao said they grow to be around 30 feet tall.

"They have been cultivated in China probably for more than 4,000 years there," she said. "So, it's one of their traditional fruits there."

She said the next step for the newly trademarked varieties is determining the size of the consumer market and then providing trees for commercial fruit growers who want to partner with nurseries and offer them for sale.

More information on jujube trees is available here.