Portland Town Hall: Chance to Comment on Columbia River Treaty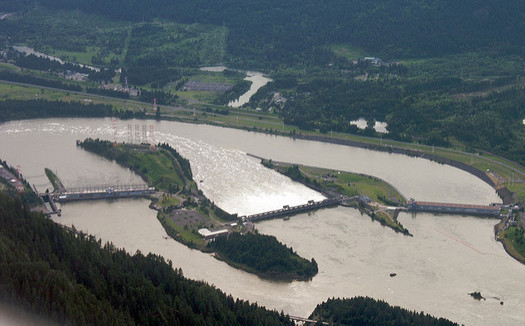 The U.S. and Canada are negotiating hydropower production and flood risk management for cities like Portland along the Columbia River. (Sam Beebe/Flickr)
September 6, 2018
PORTLAND, Ore. – The U.S. State Department holds a town hall meeting in Portland Thursday on the state's Columbia River Treaty negotiations with Canada.

Conservation and tribal groups want negotiators to take the river's health into account.

The treaty focuses primarily on hydropower production and flood risk management for cities along the Columbia.

Greg Haller, executive director of the environmental group Pacific Rivers, says it's time to add "ecosystem-based function" to that list of priorities, and points to dismal salmon and steelhead returns as a sign of bad river health.

Haller says this is what many Northwesterners want.

"They expect their power to not kill salmon and drive them extinct, and we haven't achieved that yet," he states. "And that's what we want, and that's what we're representing as a conservation community working on this issue. And the treaty offers a way to right that wrong."

Haller adds that dams in the Columbia River Basin have disrupted native fishing communities, but tribes and First Nations are not part of the negotiation process.

The town hall starts at 5:30 p.m.

The next round of negotiations between the U.S. and Canada takes place in Portland in October.

Haller says the treaty often is hailed as a gold standard for water treaty agreements.

"And it has produced a lot of benefits, but also at enormous costs to salmon and people, and fish and wildlife," Haller states. "And so, addressing the social and cultural iniquities that have occurred and economic as a result of the treaty, I think, is an important outcome."

Haller says bringing salmon and steelhead back to the Columbia River Basin also factors into conservation groups' strategy for helping the Pacific Northwest orca population, which has suffered from a lack of food.