Anti-Hunger Advocates Support Affordable Housing Measures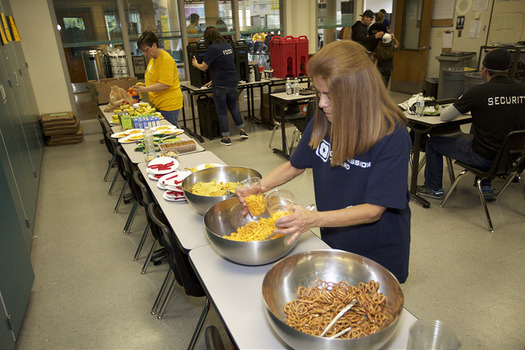 The struggle to find affordable housing is a big reason why more Oregonians are coming to food banks. (Compassion Connect)
November 5, 2018
PORTLAND, Ore. – Advocates fighting hunger are joining supporters of affordable housing measures on this year's ballot, saying food security and affording a place to live are intrinsically linked.

Measure 102 would amend the Oregon Constitution to allow local governments to partner with nonprofit groups and businesses on affordable housing projects.

Portland metro area residents also will vote on Measure 26-199, which would approve a $650 million affordable housing bond.

Anneliese Koehler, a public policy advocate with the Oregon Food Bank, says many people her organization serves at food sites can't find a place to live.

"The reason that they need our services is because they can't find an affordable place to call home," she states. "They talk about extreme rent increases, they talk about no places being available that they can afford to live in, stuff like that."

If the Portland bond measure passes, it would create housing for about 7,500 people. That number increases to 12,000 people if Measure 102 also passes.

Measure 102 has support from both gubernatorial candidates Kate Brown and Knute Buehler and was referred to voters by the State Legislature.

While there's no organized opposition, critics say there aren't enough safeguards in it to ensure it isn't abused by public officials.

Cindy Solari in the Eugene area has firsthand experience with the affordable housing crisis. Solari is dealing with kidney failure and isn't working.

While she hasn't made up her mind on Measure 102 yet, she says it's been a struggle to afford the many costs in her life.

"Often, what I have to choose between is food and my other bills," she relates. "So, usually what happens is, food is what takes the backseat between shelter, electricity and medicine. Sometimes you have to skimp on the food to make the rest stretch."

Ballots are due Tuesday and can be delivered to any local drop-off site by 8 p.m.