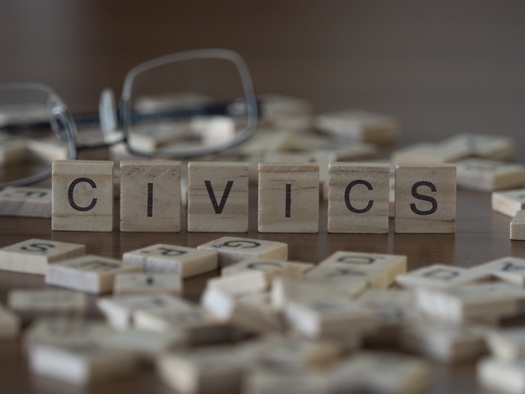 Wednesday, December 1, 2021
FARGO, N.D. -- The U.S. Supreme Court today takes up arguments in a high-stakes abortion case. It coincides with divisive arguments over voter fraud, mask mandates and school curriculum, and recent findings suggest many Americans could use more civics knowledge as they debate the issues.

This fall, the Annenberg Public Policy Center released its annual survey of overall public "smarts" about the branches of government. Adults who correctly named all three branches increased to 56%, the highest since the survey began in 2006.

Kathleen Hall Jamieson, director of the Annenberg Public Policy Center at the University of Pennsylvania, called it woefully inadequate.

"If one doesn't understand that there are three branches, doesn't understand the protections guaranteed by the First Amendment, that lack of knowledge increases the likelihood that when asked whether someone thinks that if the Supreme Court issues unpopular rulings, it might be best to get rid of the Supreme Court, a person is more likely to say yes," Jamieson cautioned.

Some divisive issues in the scope of government and constitutional protections have surfaced in North Dakota, including the state taking part in a lawsuit to overturn a workplace vaccine requirement for COVID-19. Mask-mandate debates also surfaced at many school board meetings across the state this fall.

While there has been more conversation about boosting civics education in schools, Jamieson feels the responsibility lies with the public in general to learn more. She added foundational knowledge of government is always important, but must be stressed in times like these.

"In an environment in which the branches are under stress, it becomes more important -- not less -- that the public understand why the founders set up the structure that we have," Jamieson argued.

She pointed out the news media can help by including more information when reporting on legislation or other matters related to government.

The survey revealed 61% of Americans incorrectly believes under the First Amendment, Facebook is required to allow all people to express themselves freely on the platform. And just over one in three people surveyed knew the correct lengths of terms for federal lawmakers.

Support for this reporting was provided by The Carnegie Corporation of New York.


get more stories like this via email
Environment
This Saturday, June 3, thousands of Californians will be among hundreds of thousands of Americans heading into the great outdoors to celebrate …
Social Issues
A coalition of Wisconsin groups is asking Gov. Tony Evers to reject bills it contends would make it harder for people struggling to get by to bounce …
Social Issues
Two months from today, Minnesota will begin the process of removing low-level marijuana convictions for those who have them on their criminal records…
Social Issues
Groups working to fight poverty in Alabama are urging state senators to approve a bill aimed at lowering food costs for families. House Bill 479 …
Social Issues
Navigating college can seem overwhelming for first generation students, but an early outreach program at Arizona State University aims to change it…
Health and Wellness
A new Nebraska law is now the subject of a lawsuit filed in the District Court of Lancaster County. In its amended form, Legislative Bill 574 …
Social Issues
A proposal from the federal government could provide a better path toward student loan debt repayment, but a new survey finds many borrowers don't …
Environment
Maine lawmakers are considering two pieces of legislation which supporters said are needed to ensure "responsible" development of offshore wind projec…