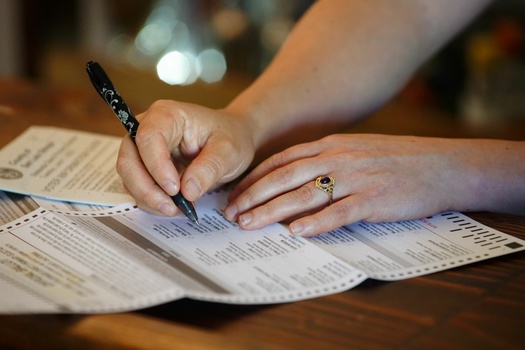 When North Dakotans head out to cast their ballots later this year, there is a chance some will do so in a voting center and not a designated precinct.

Jurisdictions cited the flexibility of voting centers when measuring what worked in the pandemic. North Dakota approved voting centers in 2007.

In the 2020 general election, all but five counties offered them. Unlike precincts, the sites are not bound by strict residential requirements. Local residents can choose to vote at any participating site in their respective county.

DeAnn Buckhouse, election coordinator for Cass County based in Fargo, said they intend to make more use of them this year.

"So, if they want to go on their lunch hour, they can go someplace that's close to where they work as opposed to rush home, get the kids," Buckhouse explained.

She noted freedom and convenience on Election Day mirrors the options people have if they choose to do early voting. Election experts pointed out while voting centers have advantages, they warn about confusion if they are not advertised enough.

It is unclear exactly how many counties will stick with voting sites in 2022. A much smaller number used them in 2018.

Buckhouse emphasized technology plays a big part in moving forward with voting centers, noting the state purchased new equipment in 2019, which means local offices do not have to rely on stacks of preprinted ballots if they want to make better use of the sites.

"We can have blank ballot stock that the machine will print once the voter has made their selection," Buckhouse added.

She stressed it is important because in more populated counties, voters in one area are likely to have different races to decide on than voters in other areas.

Currently, voting centers are allowed in 18 states. Among neighboring states, South Dakota is on the list.

Support for this reporting was provided by The Carnegie Corporation of New York.


get more stories like this via email
Health and Wellness
Most people probably never give a second thought to their visits to the dentist, but not everyone can navigate this process with ease. People with …
Social Issues
Christmas is a little more than two weeks away, and toy drives around the country are in full swing. A North Dakota organizer shares some things to …
Social Issues
A federal judge in Nevada has dealt three tribal nations a legal setback in their efforts to stop what could be the construction of the country's larg…

Environment
Hoosiers could get their holiday trees from any of about 200 tree farms in the state, according to the Indiana Christmas Tree Growers Association…
Social Issues
Reports from the Insurance Commissioner's office and the state Attorney General reveal an analysis of what they call "the true costs of health care" i…
Health and Wellness
The holiday season is filled with recipes passed down from years before, and feasting with family and friends. But think again before you have …
Environment
Connecticut lawmakers are reluctant to approve new emission standards that would require 90% cleaner emissions from internal-combustion engines and re…
Social Issues
Another controversial move in Florida's education system is a proposal to drop sociology, the study of social life and the causes and consequences of …