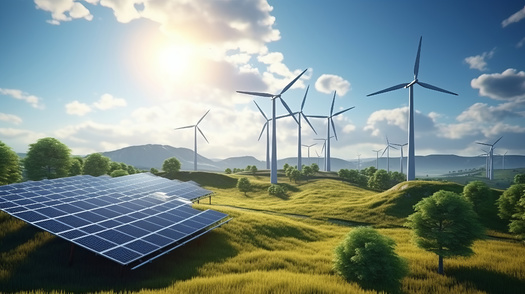 Sixty-four percent of Iowa's energy production now comes from wind - a new record for the state, according to the U.S. Energy Information Administration. Green-energy advocates call it a big step along the road to fossil-fuel independence.

Iowa has been a wind-energy leader for decades, but the Iowa Environmental Council Staff Attorney Michael Schmidt said the IEC has a goal of becoming fossil-fuel independent by 2035.

"The energy mix in Iowa has shifted from being dominated more by coal with some natural gas," said Schmidt, "to being dominated by wind with a much smaller fraction of coal and natural gas."

The IEC contends that wind is the least expensive source of energy generation, even without considering tax credits or subsidies, and says it is dramatically lower than the costs of coal - especially when accounting for factors such as human health and crop damage from fossil fuel-based energy production.

Large utility companies such as MidAmerican Energy have entered the renewable-energy marketplace but have not moved completely away from fossil-fuel backups.

Alternative-energy producers have faced stiff challenges in Iowa because the land has traditionally been so valuable for agriculture production.

To even install wind turbines, the land has to have what is known as a low corn suitability ratio, which means the acreage will be more valuable to wind farmers than it is to corn farmers.

Schmidt said public sentiment in the state is finally starting to change as people see the value of clean energy.

"I think Iowans have come together about renewable energy because it provides benefits in rural areas, it provides benefits to customers across the state," said Schmidt. "It has been a great development to have this continued growth in renewable energy. It's remarkable that Iowa has led the way on this for so long even through political change for decades now."

Schmidt said Iowa also will focus on solar-energy production as costs continue to decline, and the state will rely on a mix of alternative energy sources to achieve fossil-fuel independence.




get more stories like this via email
Health and Wellness
Advocates for mental health in Maine say the stigma of suicide often prevents those most at risk from getting the help they need. The CDC reports …
Cannabis is an emerging science in which students can make new discoveries and contributions. Wayne State University in Michigan has introduced an …
Environment
Cell phones around Wisconsin and the rest of the country will be buzzing this Wednesday afternoon for a test of the federal Emergency Alert System and…
Social Issues
As the U.S. navigates a prolonged housing crisis, a North Dakota organization is highlighting data showing significant homeownership disparities…
Environment
A new study finds the autumn chore of raking leaves could be a disservice to budding plant life. The National Wildlife Federation found fallen leaves …
Environment
As more companies embrace sustainable practices, businesses in North Carolina are leading the charge through innovative initiatives with funds from …
Environment
Volunteer water monitoring is gaining popularity in West Virginia, and could help assess the impact on regional water quality of projects like the …
Health and Wellness
October is National Bullying Prevention Month, and one Nevada father is speaking out after his special-needs son endured a traumatic incident…