Protests Mark Medicaid/Medicare 47th Birthday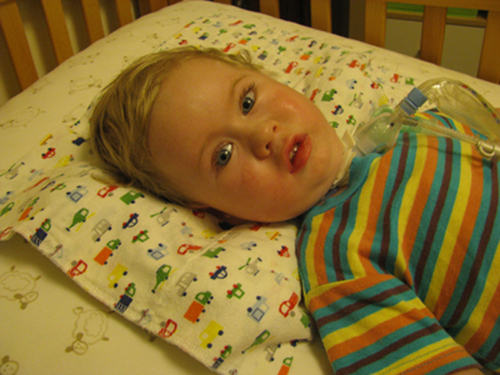 16 month old Alejandro Ako Photo credit: Shea Ako
July 31, 2012
CHICAGO - President Lyndon Johnson signed into law the bill that created Medicaid and Medicare 47 years ago this week. To mark the anniversary, demonstrators have been taking to the streets of Chicago to protest Medicaid cuts they say threaten their lives and independence.

Shea Ako protests for his 16-month-old son Alejandro, who has a disability known as spinal muscular atrophy. He says the budget cuts could put his son in an institution, even though he's thriving at home.

"Our therapists, our doctors, everybody we work with, they are all so excited because he's doing so well. He really is thriving. We wouldn't trade Alejandro for the world. He's the greatest kid ever. He has this disability. He's doing great. He's happy."

The in-home care is covered by what is known as an MFTD, "medically-fragile, technology-dependent" waiver, which has been cut, but restored temporarily. The state says the cut will save millions of dollars, but MFTD parents say institutionalizing their children will cost even more and won't provide better care.

For Alejandro, his dad says in-home care costs $19,000 a month, compared with $55,000 in an institution.

Because Alejandro is not able to play physically the way other children do, but cognitively he's perfectly normal, his parents spend a lot of time adapting activities so that he can enjoy life to the fullest. And someone is always there to clear his airways when he has trouble breathing.

Ako is afraid his son would not survive in an institution if left alone even for a couple of minutes.

"It happens on a regular basis where he has respiratory episodes. If there was somebody checking on him every 15 minutes, he wouldn't last a week."

Adam Ballard, housing coordinator for the disability-rights group Access Living of Metropolitan Chicago, also faces problems because of the Medicaid cuts. He is a father of two young children who uses a wheelchair and depends on a personal attendant to help him get ready for work in the morning and at home at the end of the day. His in-home service hours will be cut and he says it makes no sense. In general, he says studies show that for the cost of one person in a nursing home the state can pay for home care for three people.

Ballard says Illinois has started to shift dollars, but not enough.

"We're still at about 65 percent of all Medicaid money in the state goes to institutional care. Only about 35 percent goes to in-home care. We really want to see that get closer to 50-50 at the very least."

The protesters are hoping that state lawmakers will reconsider Medicaid cuts during the fall veto session. The MFTD waiver is the subject of a lawsuit and is under review for 90 days.

More information is at www.savemftdwaiver.com and at tinyurl.com/cxou2a3.