Help Wanted: Poverty Fighters in Ohio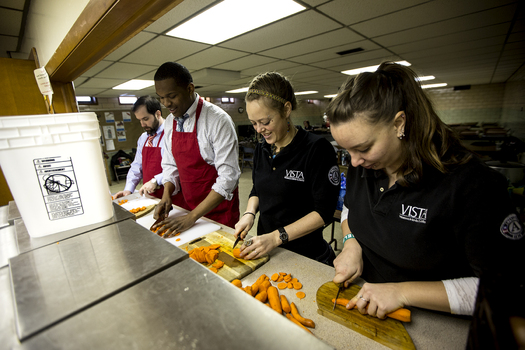 PHOTO: As the AmeriCorps program marks its 20th anniversary, recruitment is beginning for the next terms of service. Photo credit: Ohio Assn. of Foodbanks.
April 3, 2014
COLUMBUS, Ohio - A poverty-fighting organization is looking for some new recruits who can provide a helping hand for Ohioans in need. In exchange for a modest stipend, AmeriCorps members volunteer at schools, shelters, and other community service programs throughout the state.

According to Dustin Speakman, director of community services for the Ohio Association of Foodbanks, AmeriCorps VISTA also partners with the Summer Food Service Program.

"These, mostly, college kids come in and they serve their six to eight weeks at a summer food service site, where they may go out and market the program and then, also provide enrichment and fun activities in addition to just serving the meal."

Speakman said that just since 2006, they've recruited nearly 30,000 volunteers who have provided nearly 250,000 hours of service. AmeriCorps VISTA is currently recruiting 74 associates to serve eight weeks this summer, and also 40 full-time, year-round members.

Sarah Lenkay, strategic project manager for the Mid-Ohio Foodbank, who did service work with AmeriCorps for two years, said she gained experience in the nonprofit sector, while doing work that also made her feel like a valued part of the community.

"National service is a huge commitment, in that we are able to not only give back to our community, but we can learn more about our community and the people who are in it, and figure out innovative ways to put my skills forth into serving my community."

Dustin Speakman said having AmeriCorps members available helps their partner organizations to continue or increase the support they provide to Ohioans who struggle with poverty.

"Every year, we have to fight for these slots because of federal budget issues, and what we hear from the field, the operators of these summer feeding sites, is that they just could not maintain their current level of service without VISTA resources," he stated.

AmeriCorps marks its 20th anniversary this year. More than 820,000 people have served in AmeriCorps programs since 1994.