Giving Props to Support Staff During Education Week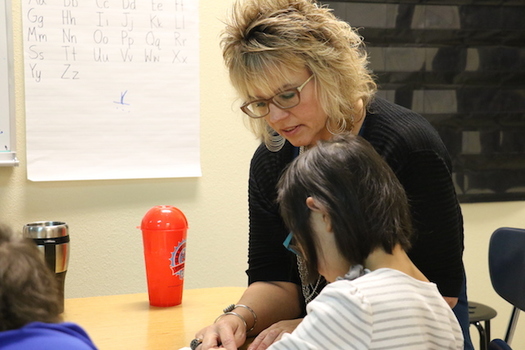 Leslie Lindberg-Harper is part of the diverse group of education support professionals in the Salem-Keizer school district. (Charles Lapham/Oregon Education Association)
November 15, 2017
SALEM, Ore. -- This week is American Education Week, and more than just teachers are in the spotlight for the support they provide to students. Each day of Education Week has a theme, and today is Education Support Professionals Day.

Known as ESPs, they include school bus drivers, janitorial staff, office clerks, food service workers and many more, and they make up the network that keeps school days running.

Leslie Lindberg-Harper has worked with schools for nearly three decades, served as president of the Association of Salem-Keizer ESPs and is currently a special programs instructional assistant at an elementary school in Salem. She said ESPs are dedicated to the students.

"What it comes down to is the why - why we're there. And it's the students," Lindberg-Harper said. "It's not for the money, it's not for any kind of social status. So, overall, you know, as far as ESPs and teachers too, the why is because of the kids."

American Education Week has celebrated the importance of education annually for nearly a century. It began in 1921. This year's focus is "Public Schools for All."

ESPs may fly under the radar sometimes, but their ability to change a child's life doesn't go unnoticed. Lindberg-Harper said a student she used to work with came up and gave her a big hug recently.

"He said, 'Thank you so much for working with me every day.' It's that kind of thing that we as ESPs, that is really heartwarming to us and that's what makes it worth our while," she said. "You know, when you have someone that's in their 30s and they remember from middle school, yeah, that makes it worthwhile."

The rest of the week will focus on other aspects of schools. On Thursday, schools are inviting members of the community in to be "Educator for a Day" to see what life is like for school employees. Finally, American Education Week will honor substitutes with "Substitute Educators Day."