Families Celebrate Anniversary of Medicaid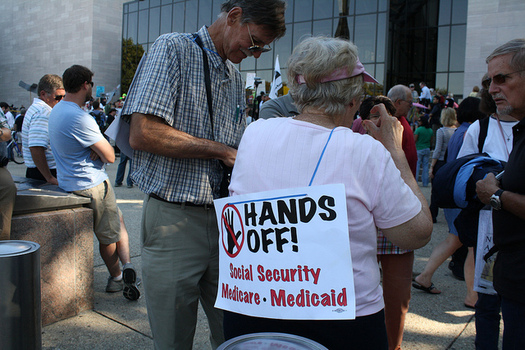 The Trump administration and the U.S. House have proposed massive cuts to Medicaid. (Elvert Barnes/Flickr)
July 28, 2017
BISMARCK, N.D. – This weekend marks the 52nd anniversary of the Medicaid program, signed into law by President Lyndon Johnson on July 30, 1965.

Medicaid provides insurance for children, pregnant women, people with disabilities, seniors and low-income adults, and 114,000 North Dakotans currently are enrolled in the program.

Amy Thom is a social worker whose daughter Emory suffers from epilepsy due to a rare disorder called Sturge-Weber Syndrome. Emory has undergone numerous therapies and receives therapy in school thanks to Medicaid. Thom says she and her husband also get in-home services for her daughter.

"We aren't able to just leave her with a typical babysitter and maybe go out to supper one night, or even to just run out and do a couple errands," she points out. "And so, Medicaid has helped that piece. We have the in-home supports that we can hire respite to come in an hour or two here or there."

Thom notes that both she and her husband are insured and use Medicaid as supplemental coverage for Emory. She says her family would pay about $11,000 out-of-pocket each year without it.

Friday at noon, speakers will be on the Burleigh County Courthouse lawn in Bismarck, celebrating the anniversary of Medicaid's signing.

The Trump administration and the U.S. House have proposed massive cuts to the program to bring down the federal deficit. Along with changes to the Affordable Care Act in the American Health Care Act, the House budget would slash $1.5 trillion from Medicaid over the next decade.

Mike Chaussee, associate state director for advocacy at AARP North Dakota, says an unlikely alliance has formed to oppose cuts.

"It's not always that the health care industry and the consumer advocates are fighting for something together," he states. "And in this fight, we all agree on how important it is to save Medicaid."

Chaussee says the program has been especially helpful for seniors who aren't able to fully cover nursing or in-home costs through Medicare. He calls the program a "lifeline" for many seniors.

Thom says she wants to advocate for the people who can't advocate for themselves.

"I think it's incredibly important because it's people's lives, and it affects the quality that they're able to have, and there's amazing services out there," she stresses.