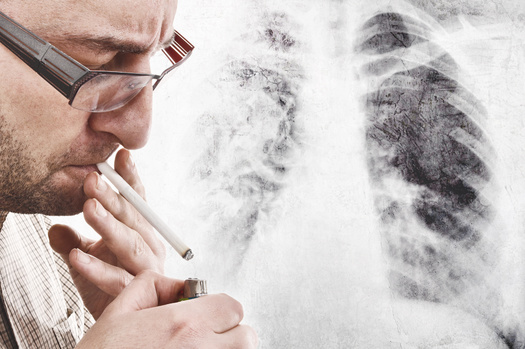 Monday, November 28, 2022
The American Lung Association has released its 2022 State of Lung Cancer report, which shows Indiana has some work to do.

The leading cause of lung cancer is smoking, and the state ranks high in the Lung Association report with 19% of Hoosiers doing so. Indiana also ranks high with the second leading cause of lung cancer, as 40% of home radon tests are at or above the Environmental Protection Agency action level. With early detection, the five-year lung cancer survival rate is 61%.

Tiffany Nichols, Indiana director of advocacy for the American Lung Association, said many people don't realize treatments are possible.

"Many Hoosiers don't understand that there are lifesaving treatments out there," Nichols observed. "I think we need to do a better job at letting people that are at risk of getting lung cancer know there are things out there. They don't necessarily have to die from lung cancer."

She encouraged people to ask their doctors to find out if they are eligible for a lung-cancer screening.

Indiana ranks 20th in the nation in early screenings, but it still represents only 7% of high-risk patients, and nationally only 5% are screened. The Lung Association maintains states should mandate coverage of lung-cancer screenings "in all fee-for-service and managed-care plans without any financial or administrative barriers in their Medicaid programs."

Nichols added health professionals need to advocate for screenings.

"I think health professionals need to make it known that there are screening things that are out there that can help to diagnose and to check for lung cancer early," Nichols urged.

In March of last year, the U.S. Preventive Services Task Force updated the recommendations around lung cancer screenings to include a larger age range and more current and former people who smoke.


get more stories like this via email
Environment
This Saturday, June 3, thousands of Californians will be among hundreds of thousands of Americans heading into the great outdoors to celebrate …
Social Issues
A coalition of Wisconsin groups is asking Gov. Tony Evers to reject bills it contends would make it harder for people struggling to get by to bounce …
Social Issues
Two months from today, Minnesota will begin the process of removing low-level marijuana convictions for those who have them on their criminal records…
Social Issues
Groups working to fight poverty in Alabama are urging state senators to approve a bill aimed at lowering food costs for families. House Bill 479 …
Social Issues
Navigating college can seem overwhelming for first generation students, but an early outreach program at Arizona State University aims to change it…
Health and Wellness
A new Nebraska law is now the subject of a lawsuit filed in the District Court of Lancaster County. In its amended form, Legislative Bill 574 …
Social Issues
A proposal from the federal government could provide a better path toward student loan debt repayment, but a new survey finds many borrowers don't …
Environment
Maine lawmakers are considering two pieces of legislation which supporters said are needed to ensure "responsible" development of offshore wind projec…