MA Veterinarians to State: Ban Pig & Calf Confinement Crates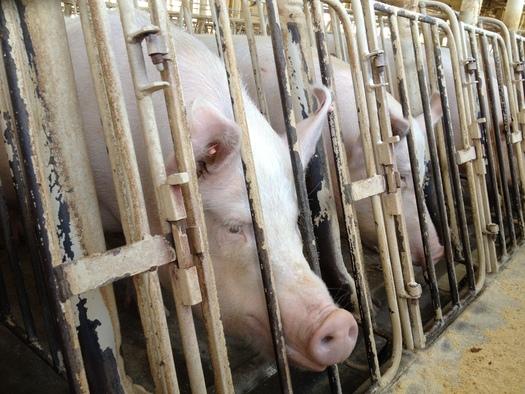 Pregnant pigs are confined in gestation crates too small to turn around in. Photo Credit: Humane Society of The United States
July 9, 2013
BOSTON - More than 175 Massachusetts veterinarians have signed a letter to be presented to state legislators asking them to support The Act to Prevent Farm Animal Cruelty. At the heart of the issue are confinement crates for calves and gestation crates used for pregnant pigs.

According to Dr. Barry Kellogg of Pittsfield, senior veterinary adviser for the Humane Society Veterinarian Medical Association, the Act would require that pigs and calves being raised for food have enough living space to turn around, lie down and extend their limbs.

"We have the responsibility to not be cruel to animals, and these confinement crates are cruel and inhumane in their restriction of activity of motion and behavior," the veterinarian declared.

Calves raised for veal are confined in crates too narrow for them to turn around, and they are often tethered by their necks to further restrict movement until they are slaughtered at about 16 weeks old. The majority of breeding pigs are confined day and night during their pregnancies in gestation crates, which are the size of the pig's body. They are impregnated again after they give birth and are put back into such crates.

Kellogg said he and veterinarians around the state support the Act, which simply would give animals more space.

"And that's all we are attempting to do is to eliminate the totally restrictive (conditions) with some requirements to be able to lie down, turn around, extend their limbs," he stated.

Some people in agribusiness defend the use of gestation crates to save money, as few workers are needed to tend to the animals when they are thus confined. Kellogg said however that many humane alternatives can be implemented without raising costs. He added that many of these intelligent and social animals suffer both physically and psychologically from being isolated and prevented from engaging in natural behaviors.

Nine states have banned confinement cages and many major food chains such as Dunkin' Donuts and McDonald's are phasing out their use from their food suppliers.

The bill will be presented at a public hearing scheduled in Boston today, scheduled to begin at 1 p.m. at the State House, 24 Beacon St., Boston, Hearing Room A1 & A2.

A copy of the signed letter is at tinyurl.com/kgy5d3m.