Kentucky Business Leaders: Smoke-Free Helps Bottom Line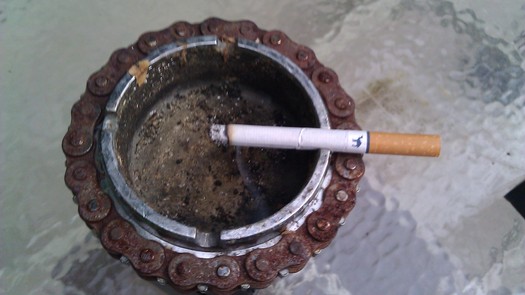 PHOTO: Most businesses in Kentucky support a statewide indoor smoke-free law, according to the Kentucky Chamber of Commerce. Lawmakers will hear testimony about property rights Wednesday. Photo credit: Greg Stotelmyer.
December 16, 2014
FRANKFORT, Ky. - Health advocates are targeting the 2015 session of the Kentucky General Assembly for passage of a comprehensive smoke-free law that would cover all indoor public places and workplaces.

Lawmakers on the Health and Welfare Committee will explore the impact on property rights in Frankfort on Wednesday. Brent Cooper, president of an I.T. firm in Covington, says a statewide law is a sensible compromise.

"It's perfectly reasonable to ask people to step outside," says Cooper. "You don't have the right to do anything you want in your building if it negatively impacts the health of your customers or your employees."

Cooper founded his business, C-Forward Inc., in 1999. At that time employees were allowed to smoke inside, but he eventually went smoke-free in 2005, citing compelling evidence about the dangers of secondhand smoke.

Some lawmakers remain hesitant to tackle the property rights issue even though the Kentucky Chamber of Commerce says 92 percent of its members who responded to an annual survey support a statewide smoke-free law. Brad Richards, who serves as the president and CEO of the Hardin County Chamber of Commerce, says it's a "no-brainer," and that the law would help businesses.

"I think they understand the issue as it relates to their bottom line, and what health care costs are," says Richards.

According to Smoke-Free Kentucky, annual health care expenditures in the commonwealth from secondhand smoke exposure are as high as $106 million. Cooper says that's a point he plans to emphasize when he testifies before legislators.

"As time goes on the healthier your state is, the lower your healthcare costs will be," he says. "Absolutely, that's a compelling reason."

Kentucky currently has a patchwork of local laws regarding indoor and workplace smoking, with about a third of the population living in smoke-free zones. Richards says for those who oppose the idea of taking the law statewide, his message is not intended to be anti-smoking.

"We're not against you being able to smoke, or anyone being able to smoke," says Richards. "But please, do it outside. Don't affect other people in what it is that you're doing."

The Interim Joint Committee on Health and Welfare of the Kentucky Legislature meets Wednesday at 10 a.m. in the Capitol Annex, Room 129.
Greg Stotelmyer , Public News Service - KY